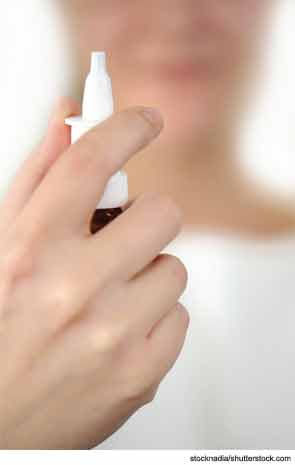 Placing a topical solution through the nostrils does not necessarily imply sinus delivery, said one panelist.
WASHINGTON—Using topical agents for chronic rhinosinusitis can result in varying degrees of the product actually getting to the right place, depending on how and under what conditions it's administered. A panel of experts, assembled here for a session at the 2012 Annual Meeting of the American Academy of Otolaryngology-Head and Neck Surgery, held Sept. 9–12, lent their observations on getting the best results:
Functional endoscopic sinus surgery is crucial, in many cases, to get enough of the topical agent to the sinuses where it's needed; this, combined with the choice of product, goes a long way toward determining the results;
Promising new carriers, with the potential to better optimize dosing and improve mucosal residence time, are emerging, as well as new active agents with fewer side effects, but stronger evidence is needed and many questions remain;
Nitric oxide has shown potential for use in topical agents, with sustained release and the ability to reduce biofilms; and
While the contamination rate of topical agent delivery devices is stunningly high, those contaminations have not led to a significant jump in clinical infections.
The Surgical Factor
Richard Harvey, MD, professor of otolaryngology at St. Vincent's Hospital in Sydney, Australia, and the moderator of the panel, said that a lot of attention from pharmaceutical companies is given to concept delivery, e.g., getting the drug through the mucus membrane. "The reality is that when it comes to the upper airway, understanding the surgical and macroscopic anatomy is far more important," he said. "Are the sinuses open? What device? What volume? How [are you] delivering it through the nostrils? Because placing topical solution through the nostrils does not necessarily imply sinus delivery."
A study he was involved in showed that surgery was the all-important factor, because it gave the agents a big enough opening. Typically, for better results, an opening that is 4 mm or larger is needed. "Without surgery, it didn't matter how big a volume, how much positive pressure you tried to force up the nose," he said. "You weren't going to get topical solution in there." (Otolaryngol Head Neck Surg. 2008;139(1):137-142.) Other studies on live patients have come to similar conclusions, he said.
Sprays are almost useless in reaching the sinuses, he said. Pulsed nebulizers are probably the best low-volume devices, with just 8 percent of the solution left behind, he said. Atomizers deliver a "reasonable volume," but they're not well studied, he said. For high-volume delivery, the neti pot and squeeze bottles both leave about 5 to 6 percent of the solution behind. Squeeze bottles are "probably the most effective at the moment," Dr. Harvey said.