WASHINGTON—Leading otolaryngologists gathered here to talk about a problem that affects countless patients around the world but that, traditionally, the ENT community has not had a major role in treating: chronic cough.
Panelists at a session of the 2012 Annual Meeting of the American Academy of Otolaryngology-Head and Neck Surgery, held here Sept. 9–12, talked about the multitude of factors that can lead to chronic cough, the approaches they take in getting to the root of the problem, the importance of recognizing how each part of the airway affects the others and the role of laryngopharyngeal reflux (LPR). "Cough is really a worldwide problem," said panel moderator Kenneth Altman, MD, PhD, director of the Eugen Grabscheid MD Voice Center at Mount Sinai Hospital in New York. Estimates vary, but chronic cough has been found to affect 9 to 33 percent of people.
Patients with cough are grouped into three categories. Those with acute cough have had symptoms for three or fewer weeks, often due to a viral upper respiratory infection. Subacute cough lasts from three to eight weeks and is generally post-infection—for instance, when sinusitis has resolved but there is still inflammatory post-nasal drip. Chronic cough lasts more than eight weeks, and it's the most challenging form of cough for doctors. "[It] really involves a large spectrum of disease, and this is very important for the complexity of the problem," said Dr. Altman.
According to the National Ambulatory Medical Care Survey, patients in the U.S. made 27 million doctor visits in 2006 for cough—that's just 3 percent of total visits, but it's the most common reason for a doctor visit behind a general medical exam or a non-specific progress visit. Otolaryngologists, though, saw just 17 million patients that year—for any reason. "There's a big lapse in the amount of care that we provide to cough patients," Dr. Altman said. "Most care provided to cough patients is performed by primary physicians, pulmonary physicians and other subspecialists—not otolaryngologists."
There is opportunity here, he said. In 2006, there were $3.6 billion in sales of over-the-counter cough and cold medications, meaning that the public is often self-treating with no clear diagnosis.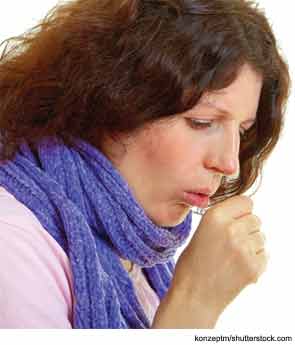 Panelists cited the lack of a standardized way to approach the cough patient as an obstacle in providing comprehensive care.
Multi-Factorial Causes
The American College of Chest Physicians offers a scientific, evidence-based list of chronic cough causes, and the American Academy of Otolaryngology–Head and Neck Surgery Foundation is partnering with them to help forge upcoming recommendations. Common reasons include tobacco use, post-nasal drip syndrome, GERD and laryngoesophageal reflux, bronchitis, asthma and the use of ACE inhibitors. Reasons occurring less commonly include bronchiectasis, carcinoma, cystic fibrosis, congestive heart failure, and interstitial pulmonary disease.