Elizabeth A Blair, MD, associate professor of otolaryngology -head and neck surgery at the University of Chicago, likes the portability of headlights. "It's challenging to use a head mirror on small children who can't sit still," she said.
The headlight's price tag also beckons doctors. When they first went to market, headlights cost thousands, compared to head mirrors, which are priced at around $100. "Now, their price has come down so they're much more affordable," Dr. Blair said.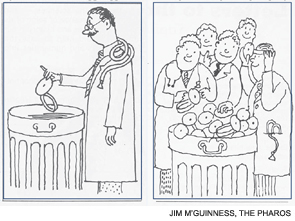 A Constant for Residents
But, despite the headlight's reduced cost and noted convenience, some residency programs refuse to retire their head mirrors and switch strictly to headlights. Two reasons many teaching programs, like those at the University of California, Irvine and the University of Kansas Medical Center, still require residents to train on head mirrors are that they're lightweight and cast a very bright and clear light. "The hole in the middle allows for binocular vision," Dr. Verret said.
Head mirrors are easily transported, too. "I also like that I can take it off easily to tuck in my pocket," Dr. Blair said. "I prefer to use a head mirror whenever possible because I get a very bright beam of light where I need it, improving my ability to see," he added.
Another added benefit: You don't need to worry about your batteries running low or remember to recharge the battery pack.
Then there's the impact the apparatuses have on your appearance and well being. "Head mirrors are gentler to your head. They're lighter and less bulky so there's less chance it will give you a headache after wearing one for several hours or all day. The head band doesn't get caught in your hair and cause breakage, either," Dr. Blair said.
Pediatric otolaryngology departments, however, feel differently. "We don't train residents on the head mirror and we don't use them in pediatrics," said Deidre Larrier, MD, resident director of otolaryngology at Texas Children's Hospital. "Head lights are much easier to use."
The Head Mirror's Future
Dr. Blair is quick to note that the specialty shouldn't automatically discard the head mirror, or move completely to the headlight. "When medicine is looking at ways to be more efficient and cost effective, discarding proven technology for something that is more expensive is questionable," Dr. Blair said.