The surgery, I don't worry about. I worry about the anesthesia. Once you start sedating someone, and once you start intubating, that's when the problems arise, he said. Not only do I worry about it, but the literature corroborates it time and again. There is much less risk for the patient and, for those patients who care to, they can go back to work the same day.
There is also a significant economic advantage to performing the procedure in an office-based setting-an economy of both time and money. Dr. Aviv noted the Relative Value Unit (RVU) for direct laryngoscopy and biopsy in the operating room is 5.4, while a TFL biopsy done in the office actually gets reimbursed at a higher value of 5.78.
In our institution, when we do a direct laryngoscopy biopsy, it takes about two hours total. Thirty minutes or so to get the line and put the patient under. It takes us five minutes to do our part and then it takes about 45 minutes to wake the patient up, Dr. Aviv said. If you can do it much faster at your institution, then I want your manual.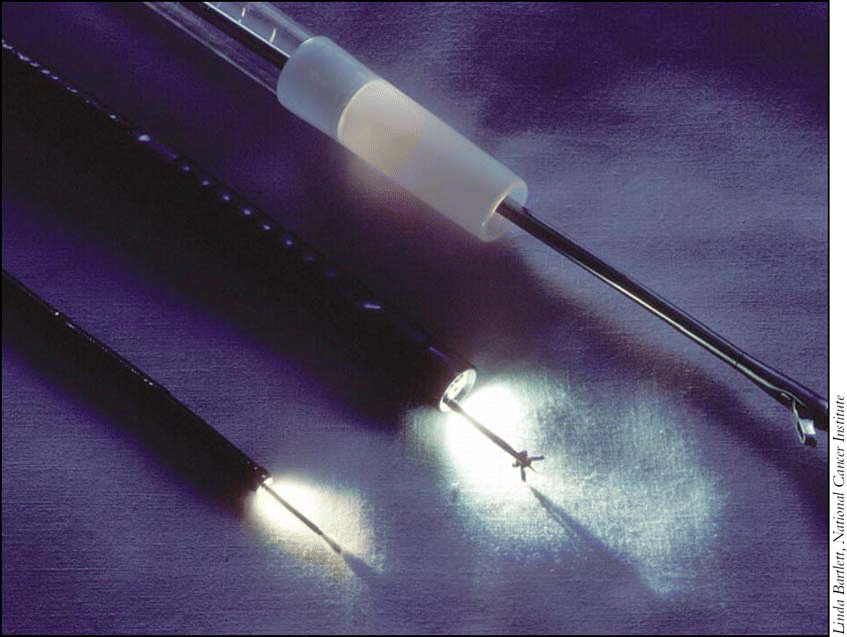 click for large version
Figure. Here are some of the instruments used to take office biopsies using transnasal endoscopy: a biopsy brush, biopsy forceps with a needle, and biopsy forceps (left to right).
That works out to about 2.7 RVUs an hour for a procedure performed in-hospital. So how does that compare to in-office?
For the same biopsy in the office, no matter how slow we go, it never takes us more than 30 minutes, he said. That's about 11.5 RVUs an hour. You don't need an MBA to figure that one out.
Lasers
Steven Zeitels, MD, Chair of Laryngeal Surgery of Harvard Medical School in Boston, Mass., offered his perspective on the use of lasers in the office setting, including the pulsed KTP, pulsed dye laser (PDL), and the newer thulium laser.
The big issue for us, when you use the PDL, for example, is there was a significant amount of bleeding because of the nature of the PDL, Dr. Zeitels said. That's not good if you're working on a patient in the office. If the blood goes under the basement membrane, then you're going to heat the blood under the basement. If it leaks out, the patient starts coughing and you're going to get more bleeding and lose your window of opportunity with local anesthesia. You only get about 20 to 25 minutes, and if you re-dose the lidocaine into the trachea, you run the risk of lidocaine toxicity.