Adenoids and Tonsils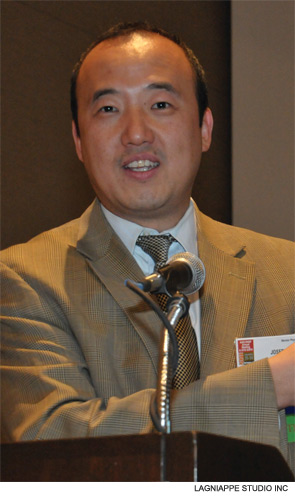 "Despite a decade of research on biofilm and
sinusitis
, we still don't know when a biofilm becomes pathogenic," said Joseph K. Han, MD.
According to Dr. Darrow, biofilms are known to be present in the tonsils and adenoids, and early evidence suggests a connection between the presence of pathogens in the biofilms and disease, but whether the pathogens in the biofilms are causing disease remains unclear.
Part of the problem in translating some of the outcomes seen in basic research to the clinic, he said, is that the clinical situation is often different than the one analyzed in the research study.
He cited, for example, the theory proposed by basic research that biofilms in tonsils and adenoids may be a reservoir for bacteria, a condition that results in recurrent and chronic upper respiratory illness. He walked participants through outcomes from studies on otitis media (OM) that looked at the presence of biofilms on the adenoids of children who had undergone adenoidectomy for various conditions. One study showed that for the children with recurrent acute OM, the average adenoid was 98 percent covered with biofilm on its surface, while 28 percent of children with chronic middle ear fluid had biofilms on their adenoids, and less than 1 percent of those who had their adenoids removed because of obstruction alone had biofilms on their adenoids (Am J Otolaryngol. 2010;31(4):241-245).
"The conclusion of these studies was that the children with acute recurrent OM had a much higher likelihood of having pathogens within the biofilm," he said. "The problem is that when you look at the clinical data, adenoidectomy is actually more effective as adjunct therapy for children with chronic fluid than for children with recurrent OM. So the basic science doesn't correlate with the clinical situation."
Another problem with outcomes from research studies is that they include a heterogeneity of patients, making the outcomes difficult to translate into the clinical setting. For example, he said a basic problem with these studies is the criteria used for determining which patients had recurrent acute ear infections. According to Dr. Darrow, these criteria are weak, and clinical studies would require higher standards for patients enrolled in a clinical trial.
Overall, Dr. Darrow emphasized the need for more studies. "We don't have a lot of data that translates well into the clinical realm telling us whether the biofilms are actually causing disease or not," he said.