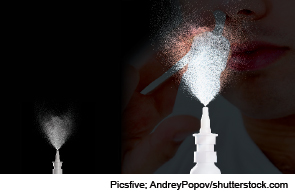 In October 2013, the first intranasal corticosteroid nasal spray became available for over-the-counter (OTC) use after the U.S. Food and Drug Administration (FDA) approved Nasacort AQ (triamcinolone acetonide) for the nonprescription treatment of nasal allergy symptoms.
The decision was met with some controversy, most notably in a response from the American Academy of Otolarnygic Allergy (AAOA), the American Academy of Allergy, Asthma and Immunology (AAAAI), and the American College of Allergy, Asthma and Immunology (ACAAI). These organizations submitted their response to the FDA detailing their objections to making these sprays OTC due to safety concerns.
In their response, the AAAAI and ACAAI described updated studies that supported their earlier recommendations against the OTC use of intranasal corticosteroid nasal sprays published in a position paper in 2006 (Ann Allergy Asthma Immunol. 2006;96:514-525). Highlighted in both the position paper and a 2013 response to the FDA decision was the need for clinician monitoring of these sprays to avoid potential adverse effects, including growth suppression in children and ocular side effects and osteoporosis in some individuals.
Bryan Leatherman, MD, secretary of the AAOA board of directors, says his organization expressed concern over ensuring patients were receiving an accurate diagnosis of their nasal problems, were given good information about appropriate treatment options, and that they were monitored long-term for potential side effects.
Another concern is that some patients may not be knowledgeable in how to use the product. "We know that these [medications] are extremely effective, but only when used the right way, and with the knowledge that they only should be used once a day," said Alpen Patel, MD, who serves as AAOA socioeconomic chair. Also, he said, "they may not use it long enough and may prematurely give up on it."
Effect on Treatment of Patients
According to Timothy L. Smith, MD, MPH, professor of otolaryngology/head and neck surgery at Oregon Health and Science University in Portland and
ENTtoday editorial board member, the approval of this first intranasal spray for OTC use has occurred too recently to know how it will affect patients and otolaryngology practice. "I don't think anyone knows yet how this will play out, but it needs to be actively monitored," he said, adding that the issue of approving these sorts of drugs for OTC use is on his radar screen but that he doesn't have any immediate concerns about their use.