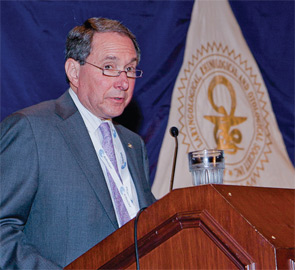 Dr. Ossoff speaking on April 20.
Triological Society members should strive to achieve leadership, legacy and succession, said Society President Robert H. Ossoff, DMD, MD, FACS.
Dr. Ossoff, who gave the Presidential Address here on April 20 at the Triological Society's 115th Annual Meeting, is Maness Professor of Laryngology and Voice and assistant vice chancellor for compliance and corporate integrity at
Vanderbilt University School of Medicine. The meeting was held as part of the Combined Otolaryngology Spring Meetings.
Leadership
"It's my strong belief that as physicians and members of the Triological Society we have both an obligation and responsibility to be leaders regardless of where we find ourselves," Dr. Ossoff said.
| | |

Next →

|
Single Page