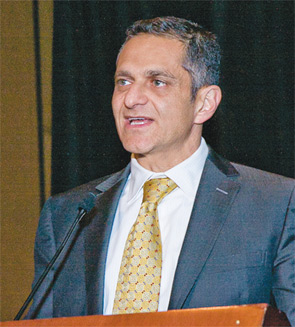 "There's no substitute for staying up to date on the basic principles of laser tissue interaction."
—Mark Courey, MD
SAN DIEGO —  Lasers may have first been introduced into medicine 60 years ago, but removing disease while keeping healthy tissue intact can still be a complicated proposition, said Mark Courey, MD, director of the University of California San Francisco Voice Center, who gave a State of the Art Lecture here on April 20 at the 115th Annual Meeting of the Triological Society. The meeting was held as part of the Combined Otolaryngology Spring Meetings.
Understanding the mechanics behind lasers and the biological mechanics at work when the laser meets the tissue is crucial in getting the best patient results, he said.
Techniques
Dr. Courey emphasized the importance of appreciation of the thermal diffusion coefficient, the time it takes for the heat energy to dissipate into the surrounding tissue. The longer the surrounding tissues are exposed to the heat created by the laser, the more likely it will become injured or die, he said.