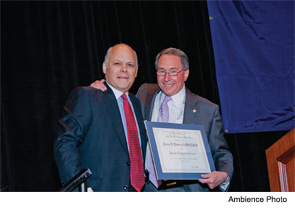 Dr. Netterville accepting his Guest of Honor certificate from TRIO President Robert Ossoff, MD.
A medical career is a career in discovery, and keys to that discovery are listening carefully to patients, surrounding yourself with intelligent people, and not letting mysteries lie unsolved, said James Netterville, MD, director of head and neck surgery at the Vanderbilt-Ingram Cancer Center and the Joseph H. Ogura, MD, Lecturer at the 115th Annual Meeting of the Triological Society, held here on April 20 as part of the Combined Otolaryngology Spring Meetings.
Dr. Netterville talked about his experiences and the medical knowledge that has stemmed from his handling of carotid body tumors. "Tumors will teach you a great deal if you observe them and if you listen to them," he said.
Early Errors
It's a journey that started off with moments that Dr. Netterville said he now wishes he could undo.