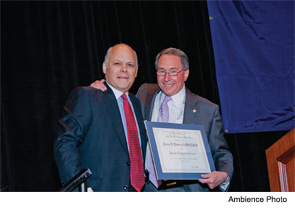 Dr. Netterville accepting his Guest of Honor certificate from TRIO President Robert Ossoff, MD.
A medical career is a career in discovery, and keys to that discovery are listening carefully to patients, surrounding yourself with intelligent people, and not letting mysteries lie unsolved, said James Netterville, MD, director of head and neck surgery at the Vanderbilt-Ingram Cancer Center and the Joseph H. Ogura, MD, Lecturer at the 115th Annual Meeting of the Triological Society, held here on April 20 as part of the Combined Otolaryngology Spring Meetings.
Dr. Netterville talked about his experiences and the medical knowledge that has stemmed from his handling of carotid body tumors. "Tumors will teach you a great deal if you observe them and if you listen to them," he said.
Early Errors
It's a journey that started off with moments that Dr. Netterville said he now wishes he could undo.
In the late 1980s, over the course of just a few months, he removed carotid body tumors from three sisters, for whom he had been camp counselor nearly 20 years earlier when they were still young girls. At the time, the standard thinking about the tumors was that they needed to be removed. After their surgeries all of the sisters experienced wild fluctuations in blood pressure, with no apparent cause. For one of the sisters, the consequence was even more serious. The woman had a carotid body tumor, which, without question, needed to be removed.
"But," Dr. Netterville said, "right above was a 1 centimeter vagal paraganglioma. I would love to put that tumor back, but I took it out because it was there. Cost her her vagus nerve that day."
The blood pressure swings were "impairing their life," he said. "I'm supposed to make these three young ladies better."
In addition, the girls had trouble eating, saying they had a severe pain in the jaw that went away after a few bites. The same condition arose in other relatives of the sisters. And the blood pressure swings didn't respond to medication. But the difficulties led to revelations.
Discoveries
After multiple consults, David Robertson, MD, director of Vanderbilt's Clinical Research Center, began to put together the pieces. He found the patients had a failure of the baroreflexes, in which short-term changes in blood pressure are buffered when the stretching of blood vessels caused by increased pressure prompts a counter-response in the vessel walls.