Otolaryngologists increasingly must think about the cosmetic outcomes of patients undergoing head and neck surgery. Consequently, physicians are incorporating more cosmetic and reconstructive techniques into their procedures, according to experts interviewed for this article.
The increased demand for cosmesis may be driven by culture or patient awareness that cosmetic and reconstructive techniques are available, said Brendan J. Stack Jr., MD, Vice Chairman of the Department of Otolaryngology-Head and Neck Surgery and Director of the Divisions of Head and Neck Oncology and Clinical Research at the University of Arkansas College of Medicine in Little Rock. Regardless, people want the best treatment possible, he said.
Squamous Cell Cancer
Traditionally, larger head and neck surgeries are usually performed to treat patients with squamous cell cancer, said Dr. Stack. These people as a group have generally not done well, and cosmesis has often been sacrificed for an attempt at cure, he said. However, the need to perform some of this surgery is changing with diagnostic technology, he said.
For example, physicians used to routinely perform neck dissections if they suspected the possibility of metastases to the neck, explained Dr. Stack. Now, however, many otolaryngologists use positron emission tomography (PET) scans to determine if the patient has metastasis to the neck. The scan may show that the patient is cancer-free, making routine neck dissection unnecessary.
Or we can do a sentinel lymph node biopsy, a minimally invasive procedure, to see if the patient has cancer, he said.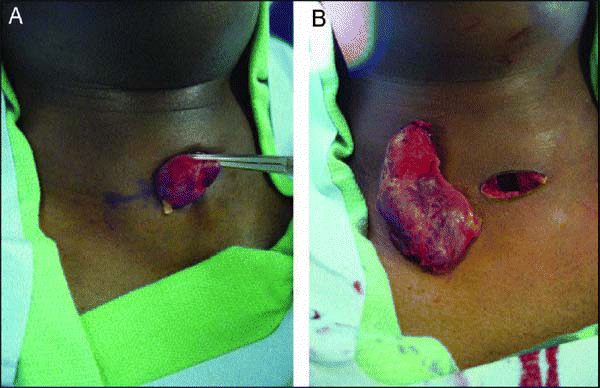 click for large version
Figure. In this hemithyroidectomy, the specimen is delivered through an incision that is smaller than the gland (A), resulting in an incision that is somewhat macerated (B). Trimming the skin edges can allow the wound to heal properly.
To treat squamous cell cancer, which occurs mainly in the throat or tonsils, minimally invasive surgery is not often applicable, said David J. Terris, MD, Porubsky Professor and Chairman of the Department of Otolaryngology at the Medical College of Georgia in Augusta.
Rather, surgeons will use ablative surgery followed by state-of-the-art microvascular free flap reconstruction, which involves taking tissue from other parts of the body-for example, the anterolateral thigh flap or the inferior epigastric cutaneous flap-to fill in holes left by cancer surgery, he said.
Typically, patients are either referred to a reconstructive surgeon or the surgeon performing the excision also does same-day reconstruction, said Dr. Stack. Many major university medical schools are training otolaryngologists to perform reconstructive head and neck surgery using microvascular free flap transfer, he explained.