The way David J. Terris, MD, performs thyroid and parathyroid surgery today bears almost no resemblance to the way he learned to do it in residency 15 years ago-but with the strides being accomplished in robotic surgery, there could be another sea change in techniques that might make his work today obsolete as well.
In a series of lectures by a panel at the 111th annual meeting of the Triological Society meeting, Dr. Terris, Porubsky Professor and Chairman of the Department of Otolaryngology at the Medical College of Georgia in Augusta, described the current state of thyroid surgery, when performed with endoscopic techniques, as a drainless, sutureless outpatient procedure.
He and his team perform about 150 to 200 thyroid procedures a year, he said, and about one-third of these operations are done with the endoscope, safely removing lesions in low-risk patients with barely a discernible scar after a short healing period.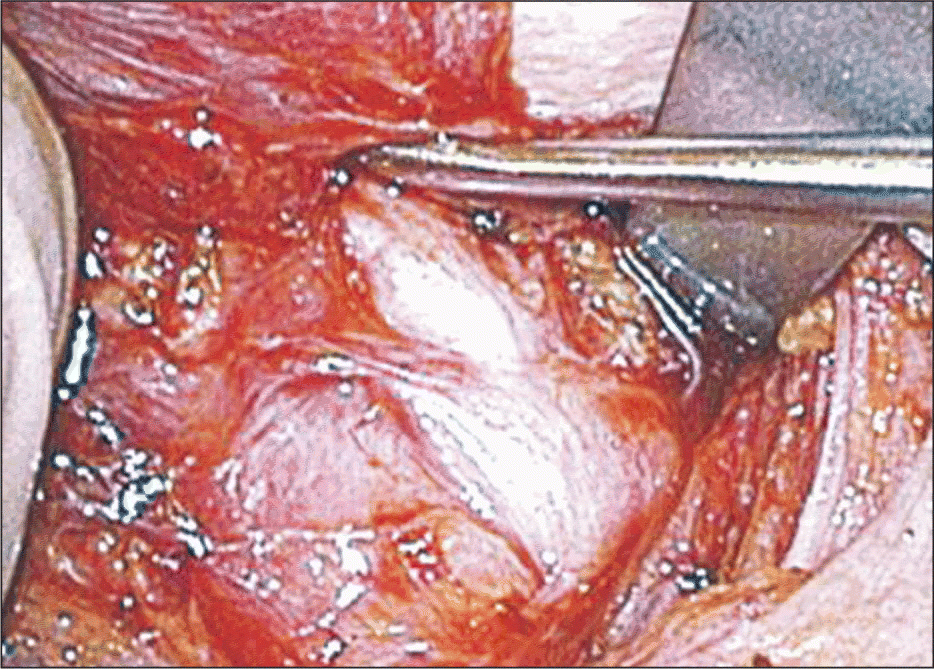 click for large version
Figure. The high-resolution endoscope enhances visualization by producing an image of the recurrent laryngeal nerve that is magnified many times compared with what is seen in unaided dissection.
In the previous articles in this series for ENT Today, Dr. Terris and his panel reported on work in four areas of surgery where minimally invasive procedures were changing the playing field in a variety of treatments. Researchers discussed endoscopic skull base surgery and use of sentinel node biopsy that may prove useful in sparing patients of the need for neck dissection.
We are witnessing a very rapid change in how thyroid surgery is done, Dr. Terris said. Many of these advances have been technologically driven. Whether it is in new devices or in image guidance, the operation of thyroidectomy has been effectively transformed. In addition, parathyroid surgery bears very little resemblance to the way I was trained to do that operation just 15 years ago.
When doctors find a patient who is ideal for the endoscopic approach to thyroid surgery, the patient will undergo an incision of about three-quarters of an inch, and the operation can be managed through this small access point without damaging major blood vessels or impinging on critical nerves.
We don't use drains on these patients at all, Dr. Terris said. We don't use sutures for the skin. It is almost always outpatient surgery, even in total thyroidectomy patients. It can be done under local anesthesia in carefully selected patients.