Robotic-assisted surgery is poised to become a standard technique for many head and neck surgical procedures, according to experts. Robotics has already been approved for prostate surgery, heart surgery, gastric bypass, and hysterectomy. If preliminary results in early studies of some head and neck surgical procedures are borne out, transoral robotic surgery (TORS) should also be approved by the FDA.
Background
In 2005, Bert W. O'Malley, Jr., MD, Gabriel Tucker Professor and Chairman, and Gregory S. Weinstein, MD, Professor and Vice Chairman and Director of the Division of Head and Neck Surgery at the University of Pennsylvania in Philadelphia, led the research team performing 10 robotic-assisted base-of-tongue resection experiments in cadavers and animals using the da Vinci Surgical Robot (Intuitive Surgical, Inc., Sunnyvale, CA). The purpose of these studies was to learn how to position the da Vinci arms in a patient's mouth, Dr. Weinstein said. He described robotic-assisted procedures as follows: the surgeon sits at a console where the surgical field is displayed in high-quality, three-dimensional video, and small joysticks are used to control the robotic arms. The patient is positioned remotely, approximately 10 feet away.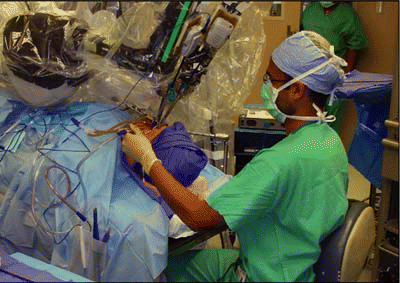 click for large version
Figure. Transoral robotic surgery, offering a three-dimensional visual environment, is being studied for use in a number of head and neck procedures.
Using joysticks to control the robotic arms takes away tremor, renders the surgeon ambidextrous, and utilizes miniaturized motions to make surgical incisions. The tip of the instrument goes into the patient's mouth, and it's as if you are standing inside the mouth. You get a broad, three-dimensional view of the surgical field, Dr. Weinstein explained.
Many surgical procedures that are experimental for robotics are currently done with laryngoscopic surgery along with a laser beam delivered through the scope using long instruments. A broad view of the surgical field is not possible with larygoscopy techniques, Dr. Weinstein noted.
Types of Procedures
Several types of head and neck surgical procedures are amenable to robotic-assisted surgery. Robotics can be used to resect benign and malignant tumors of the oral cavity, including the pharynx and larynx, tonsil, tongue base, supraglottis, glottis, pyriform sinus, and the parapharyngeal space.
Transoral robotic surgery is presently ideal for cancers or benign tumors of the oropharynx and supraglottis, and this technique is also useful for tumors in the pyriform sinus, but access is more difficult. It should be used for tumors not lower than the vocal cords and not higher than the lower nasopharynx, said Dr. O'Malley.