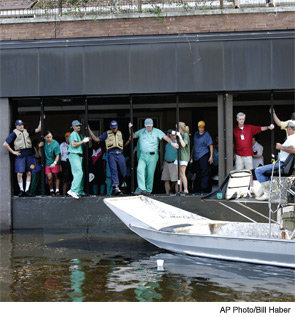 An airboat pulls up to help evacuate patients and staff at Memorial Medical Center in New Orleans.
MIAMI BEACH — Anna M. Pou, MD, the Louisiana State University professor of otorhinolaryngology who found herself at the center of the debate over disaster medical care following her work after Hurricane Katrina, told colleagues here on Jan. 28 that disaster could strike anywhere, anytime and that the only way to protect themselves and their patients is to plan now.
Dr. Pou was working at Memorial Medical Center in New Orleans when the levies broke after Katrina, allowing water to engulf the city. There were 2,000 people at the hospital, including patients, hospital staff, their family members, even their pets, when the lights and power went out, sewage overflowed, food and water ran short and temperatures rose to more than 100 degrees.
With rescue efforts scant, hospital staffers were faced with brutal ethical decisions on whom to evacuate, how to treat the rest and how to distribute supplies. Later, the Louisiana Attorney General accused Dr. Pou of injecting patients at Memorial Medical Center with a lethal combination of drugs. In 2007, a grand jury ruled not to indict her.