The choice with which laryngologists are faced when it comes to early vocal-fold cancer is a delicate one: How invasive does the treatment need to be at this stage?
A panel of distinguished physicians talked about this fine balance that they must try to strike as they discussed three cases presented by Jesus Medina, MD, Chair of the Department of Otorhinolaryngology at the University of Oklahoma Health Sciences Center in Oklahoma City. The experts sometimes opted for an attempt at an endoscopic procedure and at other times suggested an open procedure, and debated the use of radiation therapy.
At all times, though, they cautioned that all angles should be kept in mind and that, when a treatment can go one way or the other, a fully informed patient will be the best-treated patient.
First Case Study: Persistent Hoarseness
The case that prompted the most discussion was that of a 52-year-old man who arrived at the clinic after having hoarseness for six months. He reported minimal throat discomfort and did not report any ear pain or painful swallowing. At one time, he had smoked 30 pack-years, but had quit smoking when he was 35. He reported no other medical problems.
An image showed that the lesion involved the anterior two-thirds of the left vocal cord but the anterior commissure was not involved (Figure 1).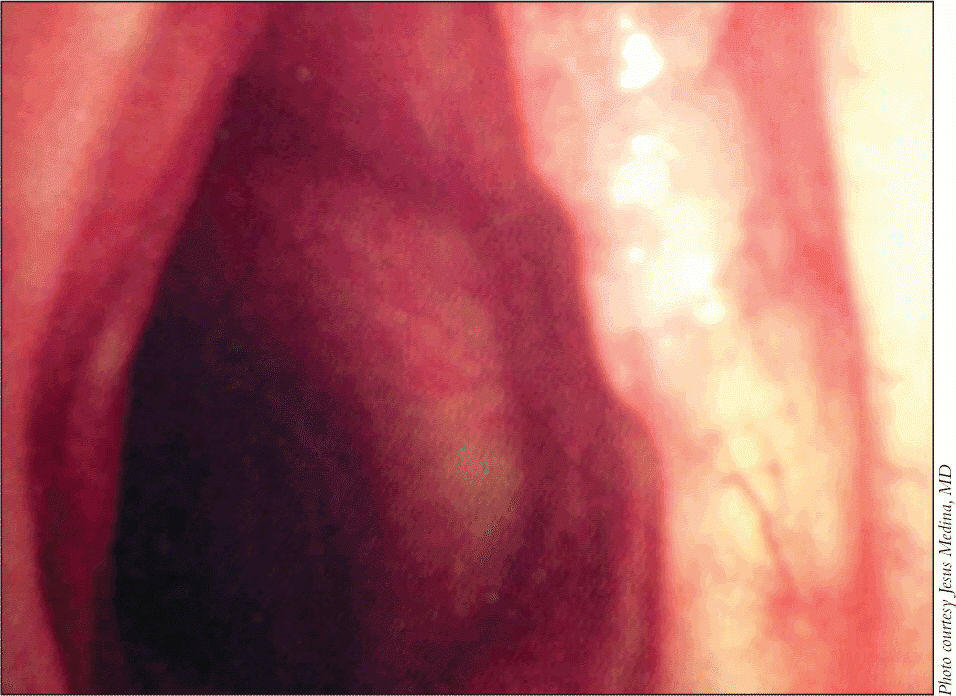 click for large version
Figure 1. A 52-year-old man presented with a lesion that involved the anterior two-thirds of the left vocal cord but the anterior commissure was not involved.
Dr. Medina first posed a question to William M. Mendenhall, MD, Professor of Radiation Oncology at the University of Florida College of Medicine in Gainesville, about the extent of the radiation portals.
Radiation portals are usually five by five centimeters in a case like this, he said. Why do we have to cover such a wide field with all the advances in localizing radiation to very small tumors? Why can we not make that field smaller so that we don't have to deal with the cumbersome edema that sometimes develops with radiating a lesion like that?
Dr. Mendenhall said that the problem is that the target moves. The problem is organ motion, he said. You set him up, the patient swallows, and the tumor can slide out of the field or move toward the edge of the field. And normally we set it up by the surface anatomy.