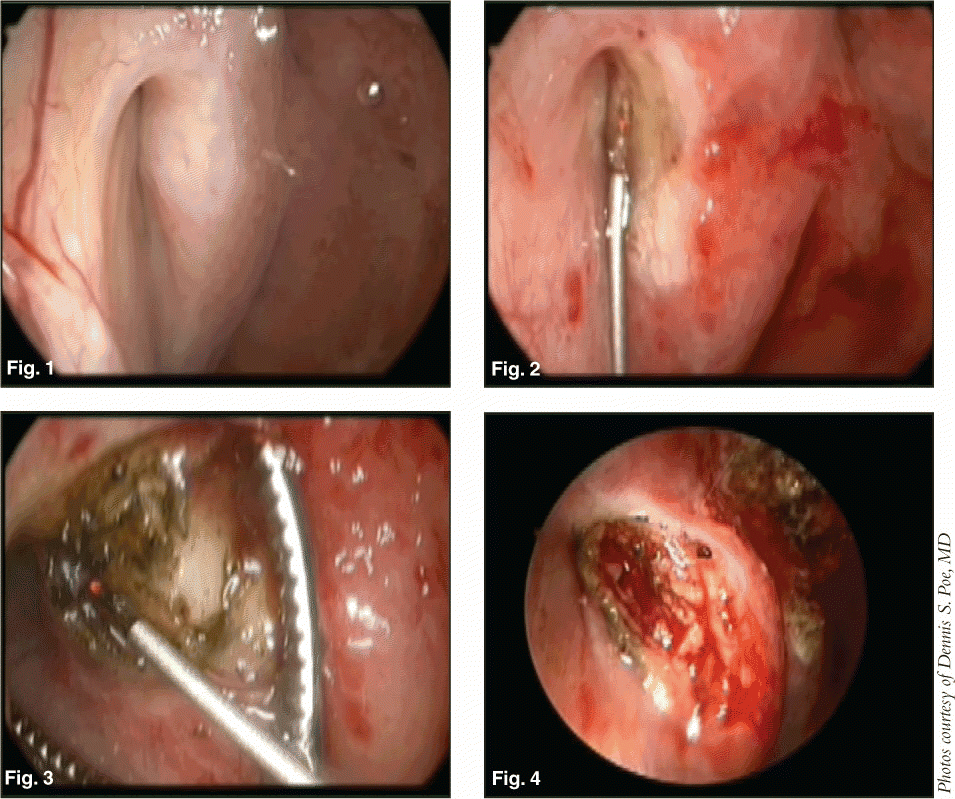 click for large version
Fig. 1.
Preoperative transnasal endoscope view of right eustachian tube orifice before eustachian tuboplasty. The valve mucosa is thickened, especially on the anterolateral wall adjacent to the posterior cushion (torus tubaris)
.Fig. 2.
Initial debulking for mucosa and submucosa is done on the anterolateral wall with cautery and a KTP laser
.Fig. 3.
Submucosal debulking is done higher inside the valve, sparing the mucosa to avoid cicatrix formation.
Fig. 4.
Completed eustachian tuboplasty.
Eustachian Tuboplasty
Although it is too early to tell with certainty, researchers are hoping eustachian tuboplasty will reduce the need for tympanostomy, said Dr. Michaelides.
Eustachian tuboplasty may be used in patients with chronic eustachian tube dysfunction with tympanic membrane atelectasis or middle ear effusion and who have undergone tympanostomy only to have grommets fall out on multiple occasions while symptoms persist, said Dr. Poe.
The procedure is also used in people who experience recurrent episodes of ear discomfort with changes in altitude-for example, those that can occur on an airplane flight or while scuba diving. Eustachian tuboplasty is not yet being performed in children, he added.
Although Dr. Michaelides recommends this type of surgery to patients who are frustrated with chronic eustachian tube dysfunction that has required multiple sets of tubes or ear surgeries, he tells patients that he cannot guarantee long-term outcomes because we do not have long-term results, he said.
As a rhinologist, Dr. Metson generally offers the procedure to patients with sinusitis who are planning on having sinus surgery and have had a tympanogram that shows eustachian tube dysfunction.
The Procedure
Eustachian tuboplasty is a nasal or transoral endoscopic outpatient procedure requiring general anesthesia. To date, it has been used only in adults, said Dr. Poe. A laser or microdebrider is used to strip away hypertrophic mucosa and cartilage on the posterior eustachian tube cushion and into an area called the valve to clear obstruction.
According to a recent paper describing microdebridement in 20 patients (Otolaryngol Head Neck Surg 2007;136:422-7), Dr. Poe and Dr. Metson describe the valve as a 0.5-cm-long region where mucosal surfaces from the anterior and posterior cushions are seen to appose during tubal closure and dilate to the open position with normal tubal function.
During surgery, physicians take special care to steer clear of injury to the mucosa on the anterior cushion to avoid postoperative scarring and stenosis of the eustachian tube orifice.