The evidence basis for this diagnostic, based on pattern and duration of illness, is that the vast majority of cases of sinusitis are viral in origin. Studies have shown that up to 2 percent of all viral sinusitis episodes are complicated by bacterial infection (J Allergy Clin Immunol. 1992;90:457-462). After 10 days of illness, about 60 percent of cases have a bacterial component (Clin Infec Dis. 2004;38:227-233).
According to Dr. Rosenfeld, the AAO-HNS guidelines were the first to present clear, actionable steps to distinguish viral and bacterial sinusitis. They do not recommend radiographic imaging, unless the physician suspects something beyond sinusitis. By basing the diagnosis on history and symptoms alone, Dr. Rosenfeld said, "even consumers could take this advice."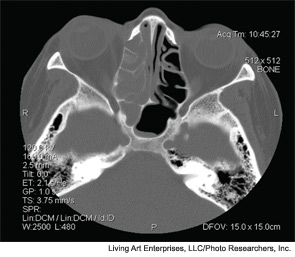 This axial (cross sectional) CT image through the face shows complete opacification of the right (on your left) ethmoid air cells. This is an instance of severe sinus infection involving the ethmoid sinuses. There is also infection in the sphenoid sinus, worse on the right (your left) side.
First-Line Treatment
For sinusitis that is suspected to be viral, physicians may offer symptomatic relief: analgesics, antipyretics and decongestants. The AAO-HNS says the evidence is too weak to recommend nasal steroids; the IDSA says they're an option.
According to Dr. Chow, nasal steroids are a reasonable choice in patients with a history of allergy. "It's weak evidence, but several studies showed a benefit and dose-dependent effects," he said.
Once the pattern and duration of illness has led to a diagnosis of bacterial sinusitis, the AAO-HNS guidelines offer two options beyond symptomatic relief: watchful waiting or antibiotics prescription. The IDSA guidelines say that once bacteria are presumed to be involved, antibiotics should be prescribed.
This difference is based on differing interpretations of published clinical studies. Clinical trials have consistently shown that a large percentage of the trial participants who receive a placebo get better within the study window—usually a week or two later (Lancet. 2008;371(9616):908-914).
"The conclusion we came to, even in people with bacterial infections, was that those in the placebo group did pretty well," Dr. Rosenfeld said of the AAO-HNS's watchful waiting option. "Give it another seven days, and up to 70 percent of patients improve."
Publishing this recommendation generated some controversy. Doctors couldn't imagine telling patients who have already been ailing for 10 days to wait another seven days. But, according to Dr. Rosenfeld, "it's a reasonable option."