According to Dr. Rosenfeld, the AAO-HNS guidelines were the first to present clear, actionable steps to distinguish viral and bacterial sinusitis. They do not recommend radiographic imaging, unless the physician suspects something beyond sinusitis. By basing the diagnosis on history and symptoms alone, Dr. Rosenfeld said, "even consumers could take this advice."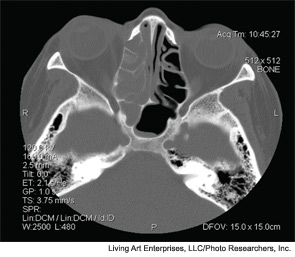 This axial (cross sectional) CT image through the face shows complete opacification of the right (on your left) ethmoid air cells. This is an instance of severe sinus infection involving the ethmoid sinuses. There is also infection in the sphenoid sinus, worse on the right (your left) side.
First-Line Treatment
For sinusitis that is suspected to be viral, physicians may offer symptomatic relief: analgesics, antipyretics and decongestants. The AAO-HNS says the evidence is too weak to recommend nasal steroids; the IDSA says they're an option.
|

← Previous

| | |

Next →

|
Single Page