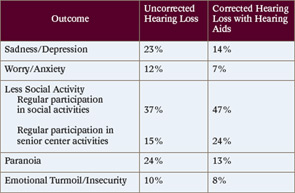 TABLE 1. Mild Hearing Loss: Comparison of Outcomes Between Older Adults with Uncorrected and Corrected Hearing Loss
Hearing Loss and Cognitive Decline
Luigi Ferrucci, MD, PhD, a geriatrician and epidemiologist and director of the Baltimore Longitudinal Study on Aging at the National Institute on Aging at the NIH, Baltimore, believes that hearing loss in older people is now being looked at in a broader framework than in the past.
Instead of concentrating on aging in the last period of life, Dr. Ferrucci said many geriatricians and gerontologists are now focusing on a life perspective risk factor exposure from birth and afterward to explain the large variability in older persons with regard to their ability to cope with stressors.
"We have been looking at a number of factors that can influence and motivate this ability to be resilient to stress and respond through compensatory mechanisms," he said. "Of course, the ability to communicate and to interact are important issues that affect the plasticity of the brain. Thus, we had the idea of using data from the Baltimore Longitudinal Study on Aging (BLSA) to see whether hearing loss in young and adult age affect the way people aged in terms of physical and cognitive function."
The multidisciplinary study, conducted in collaboration with Frank Lin, MD, PhD, assistant professor of otology, neurotology and skull base surgery at Johns Hopkins School of Medicine in Baltimore, is the first to explore the hypothesis of an association between hearing loss and cognitive decline, including dementia and even Alzheimer's disease.
Although publication of study details is embargoed until February 2011, Dr. Lin said that the results support an independent association between hearing loss and the risk of developing dementia over time, adjusting for confounding factors such as age and comorbidities.
TABLE 2. More Severe Hearing Loss: Comparison of Outcomes Between Older Adults with Uncorrected and Corrected Hearing Loss
Speculating on the possible reasons for this association, Dr. Lin said that one possible pathway linking hearing loss with dementia is that hearing loss leads to cognitive load, and cognitive load decreases cognitive reserve. "Cognitive reserve is the phenomenon postulated to explain why some people can tolerate more pathology before they show signs of dementia," he said. If cognitive reserve is decreased in people with hearing loss, then that may be why their dementia is expressed earlier than in a person with greater cognitive reserve.