Laryngomalacia is a congenital condition consisting of three anatomical abnormalities: short aryepiglottic folds, suprarythenoid redundant tissue, and an epiglottis that prolapses posteriorly during inspiration. The collapse of these tissues during inspiration causes breathing difficulties, and typically occurs in infants. (Another rare form is also observed in neurologically impaired adults.) Only a small percentage of children who experience laryngomalacia will require surgery. Currently, surgeons can choose among several techniques for infants with severe laryngomalacia who require surgery. Microdebrider-assisted supraglottoplasty is gaining favor as a preferred technique, according to two experts interviewed for this article.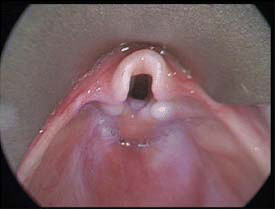 click for large version
Figure. A preoperative view of a larynx with laryngomalacia, showing shortening of the aryepiglottic folds and redundant arytenoid mucosa.
Laryngomalacia is the medical term for a floppy voice box. This is the most common cause of stridor and difficulty breathing in children. On inspiration, tissue from the supraglottis prolapses and obstructs the airway at the level of the larynx, explained William O. Collins, MD, a pediatric otolaryngologist at the University of Florida College of Medicine in Gainesville.
The vast majority of children (about 90%, Dr. Collins said) with this problem will outgrow it in less than two years. About 10% of children with this problem do not improve, with a very small number of these having severe symptoms that will require surgery to alleviate severe airway obstruction. We see hundreds of children with laryngomalacia each year, and only about 10 of them will need surgery, said George H. Zalzal, MD, Professor of Otolaryngology and Pediatrics at George Washington University and Division Chief of Otolaryngology at Children's National Medical Center in Washington, DC. Dr. Zalzal is the first reported surgeon to use to the microdebrider for supraglottoplasty.
Indications for supraglottoplasty include severe symptoms of stridor and failure to thrive, with or without apnea. Flexible endoscopy should reveal severe laryngomalacia-that is, supraglottic collapse blocking the view of the vocal cords and endolarynx.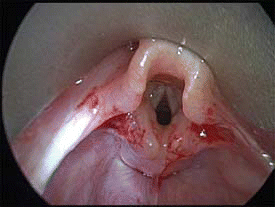 click for large version
Figure. A postoperative view of the same larynx after having undergone a microdebrider supraglottoplasty. Note the improved visualization of the true vocal folds after cutting the bilateral aryepiglottic folds and trimming the redundant arytenoid mucosa with a microdebrider.
There should be no evidence of another airway lesion on bronchoscopy. This is a prerequisite for surgery, Dr. Zalzal noted. If an infant has laryngomalacia and other airway lesions, a supraglottoplasty alone would not be helpful.
Surgeons should be cautious about performing supraglottoplasty-or any surgery-on children with underlying neurological disease. These children don't do as well as those without neurological disorders and are likely to require further surgeries, including a tracheostomy, Dr. Collins said.
Surgical Options
Surgical options have evolved from the original gold standard-tracheostomy-to less invasive supraglottoplasty using endoscopic technique. As endoscopic techniques have improved, so have methods for tissue removal, both doctors said.