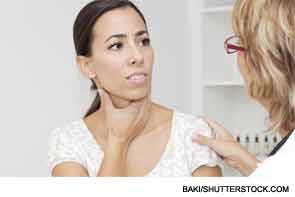 Most otolaryngologists have come across cases of globus pharyngeus, or the persistent sensation of having a lump, obstruction, or too much mucus in the throat without clinical evidence of such. Globus can come and go and is usually felt in the front of the neck, although the sensation can move. It does not interfere with eating and drinking, and patients commonly feel no pain.
Although globus is thought to be quite common, there are not enough recent, reliable studies available to show specific numbers of patients who are affected. To those patients who have globus, however, the sensation can be a real cause of anxiety. The challenge for otolaryngologists is to find the specific source of the globus while quelling any patient concerns.
A Multitude of Causes
The etiology of globus isn't fully known, but there are many conditions otolaryngologists consider responsible.
Inflammation is a frequent culprit in globus, and the most commonly cited cause for the sensation is reflux. "Inflammation of one or more parts of the throat is one of the main causes of globus," said Michael Pitman, MD, director of the Voice and Swallowing Institute at the New York Eye and Ear Infirmary of Mount Sinai in New York City. "Inflammation caused by laryngopharyngeal reflux is by far the most common type, although it can also come from issues such as rhinitis or allergies."
Adam Rubin, MD, co-director of the Lakeshore Professional Voice Center, part of the Lakeshore Ear, Nose and Throat Center in St. Clair Shores, Mich., believes that neuralgia is a close second in etiology.
Dr. Rubin recently served as senior author for a study on the use of gabapentin in patients with globus (Ann Otol Rhinol Laryngol. 2013;122:492-495). He and his colleagues looked at 87 patients who presented with globus pharyngeus between 2006 to 2011 at Lakeshore Ear, Nose and Throat Center and were given a trial of proton pump inhibitor therapy for at least two months and/or a trial of gabapentin for at least two weeks, with at least one follow-up visit.
After treatment, 77% of all patients showed improvement, 67% showed a complete or partial response to aggressive reflux management, and 66% of patients who had a trial of gabapentin reported improvement. In addition, eight of 14 patients who did not improve with aggressive reflux management improved with gabapentin. Dr. Rubin believes that these results point to neuralgia being a more common cause of globus than previously thought. "I believe that many neurogenic cases go undiagnosed," he said.