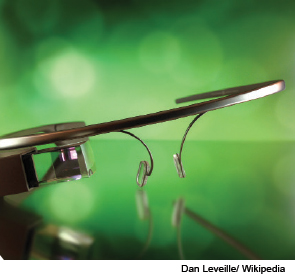 Sagar Patel, MD, a resident in the department of otolaryngology at the Barbara Ann Karmanos Cancer Insitute and Wayne State University School of Medicine in Detroit, had a feeling that Google Glass might be able to improve patient care.
He persuaded his bosses to purchase a couple of pairs—for $1,500 each—and he and his colleagues started exploring what "the Glass," as it's called, is capable of. "Most of it was initially done just walking around wearing it and testing it out on each other," Dr. Patel said.
He started imagining the possibilities, but actually getting ideas incorporated into the hospital was "a huge endeavor," he said. "We're essentially going to the technology teams and the lawyers of the hospital, and they're all looking at each other" wondering about whether a video created with Glass would become part of the medical record, how to protect patient privacy, and other sticky issues.
Wayne State has started using Glass to help teach residents, to provide easy-to-access lists during surgery, and to assist with care in free-flap surgical cases at the Barbara Ann Karmanos Cancer Institute. But steering through the uncertainty involved with such new technology has proven considerably more challenging than learning to use the device itself.
It's an issue that enterprising centers are facing. Wearable technology like Glass offers what some see as clear advantages, and it's probably just a matter of time, they say, before the devices become staples in medicine, as common as stethoscopes or surgical loupes. But, for the time being, the technology is still cutting edge. And the use of the devices is still in the feeling-out stage, with real concerns that have to be balanced against their utility.
This summer's WATCH Conference 2014, the first conference dedicated to wearable technology, was a chance for early users to discuss the advances and hurdles they've experienced as they try to get sometimes stubborn centers to open their arms to the technology.
"Any time you bring Glass into a hospital setting, there's going to be hesitancy and uncertainty leading to delays in integration into daily workflow," said Paul Szotek, MD, the organizer of the WATCH Confeence and assistant professor of clinical surgery at Indiana University in Indianapolis.
Within about a year of his first exploration of Google Glass, he was using the device to assist with surgery. His first use of the technology occurred in a case that had been referred to him involving an anterior abdominal wall tumor that had been resected previously but with positive margins. Dr. Szotek used anatomical landmarks and drew measurements on MRI images to pinpoint the residual tumor location. Using Glass, he was able to view those marked images as he did the surgery—without having to look away. "All it's doing is shrinking down the monitors that we already reference and putting them just out of our line of sight so that we can reference them without looking up or walking away," he said.