The EPA identified medical waste incinerators as the leading cause and source of dioxin. Dioxins are a group of complex toxic chemicals that are waste byproducts of industrial processes such as combustion, chemical manufacturing, and chlorine bleaching.
There is a direct association between the chlorine content of combustion material in bleached paper products, PVC, and dioxin formation. Upon incineration of such products, dioxin is released into the atmosphere. Rain, snow, and dust carry it to the surface of the earth. Deposition of dioxin emissions on fields and gardens brings it into the human food chain, he said. Furthermore, dioxins have a half-life of about 10 years, and bioaccumulate in human and animal tissue.
Breast milk, which has a high fat content, passes large amounts of dioxin to infants. The precise extent to which these toxins have contributed to the incidence of many types of cancer or other disorders is unknown, but it is indisputable that exposure represents risk to the ecosystem and public health, he said.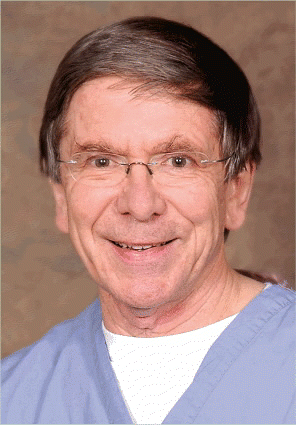 Physicians have either been unaware of, or indifferent to, the incongruence between our guiding ethical principle of taking care not to harm patients or put them at risk, and the environmentally irresponsible behavior that pervades an industry in which we are key players.
-Robin Cotton, MD
PVC is the plastic used widely used in medical devices such as total parenteral nutrition bags and nasogastric, hemodialysis, and endotracheal tubing. It is also used in examination gloves, respiratory masks, and plastic food wrap. The plastic is rigid, and DEHP is used to make it flexible. However, DEHP is a known reproductive and developmental toxin, and leaks out of medical devices.
Studies show that children have a heightened absorption of DEHP and are susceptible to DEHP toxicity. Neonatal intensive care units are known to receive the highest exposures in hospitals. Children with tracheotomy tubes are chronically exposed, he said.
Dr. Cotton noted that there are other plastics, such as polyethylene, polyurethane, and polypropylene, which are not manufactured with chlorine and do not require plasticizers such as DEHP. Products that lack PVC and DEPH are now available for most plastic health care products.
Although initial costs are currently higher, industry analysts expect that the alternatives will become increasingly cost-competitive as demand increases, he said. Dr. Cotton noted that hospitals in Sweden have already switched to polyurethane tubing to replace PVC tubing at virtually no increase in cost.
Because of international efforts, dioxins generated by waste incineration have decreased, and stricter toxin emission regulations have been imposed in the United States. However, incineration generating these pollutants still continues in many places in this country.