Andrew Goldberg, MD, never tires of telling people about how he was outsmarted by a patient while working as a second-year otolaryngology resident at the University of Pittsburgh. Now the director of rhinology and sinus surgery at the University of California San Francisco Medical Center, Dr. Goldberg recalled how he assisted in the examination of a patient with a history of chronic otitis externa in one ear. Despite repeated trips to doctors for antibiotics, vinegar washes and drops, the patient's ear trouble always came back.
Not this time. The doctors assumed that their treatments had finally done the trick, only to be told by the patient that he had likely cured himself by taking earwax from his good ear and sticking it in his bad ear. "I had no idea what that meant. I'm sure that we assumed, at the time, that what he was telling us was nonsense, that he was a little nutty," Dr. Goldberg said. "We never thought anything more about it."
The home remedy, however, now seems prescient in light of accumulating research suggesting that microbiomes, or distinct bacterial communities that coexist with us throughout our bodies, may play key roles in maintaining human health. When he began conducting his own microbiome research about five years ago, Dr. Goldberg realized that his former patient may have taken an intact, healthy microbiome and used it to re-inoculate the disrupted bacterial community in his bad ear.
The Microbial Ecosystem
A new study by Dr. Goldberg and colleagues likewise concludes that the health of our sinus cavities, once thought to be largely sterile, may be highly dependent on the composition of their microbial residents (Sci Transl Med. 2012;4(151):151ra124).
The study, published September 2012 in Science Translational Medicine, found an intriguing shift in the types of microbes inhabiting the sinuses of seven patients with chronic rhinosinusitis (CRS) when compared with healthy counterparts. Beyond a significant decrease in the diversity of microorganisms among the patients, the researchers found a noticeable drop in a group of bacteria known as Lactobacilli, long associated with maintaining health in the gut. Concurrently, the researchers saw an increase in a little-known potential pathogen called Corynebacterium tuberculostearicum.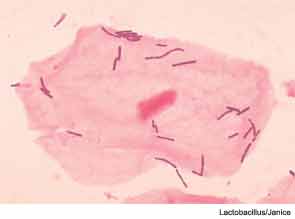 Lactobacilli could lower the surrounding pH through their production of lactic acid.
"Central to the concept that we're putting forward is that there is a protective mechanism in a normal sinus that comes about as a result of the microbiome," Dr. Goldberg said. Exactly how microbes such as Lactobacilli may keep pathogens at bay isn't known. But study co-author Susan Lynch, PhD, associate professor of medicine and director of the Colitis and Crohn's Disease Microbiome Research Core at the University of California San Francisco, noted that Lactobacilli could lower the surrounding pH through their production of lactic acid. The ensuing environmental change may influence which microbes can coexist in the sinuses and perhaps exclude some troublemakers.