On her Web site, she notes that relying on consumers or the government alone to fix the system has unintended consequences, like scaled-back coverage or limited choices. This plan ensures that all who benefit from the system share in the responsibility to fix its shortcomings.
Sen. Edwards would require all Americans to buy insurance and employers to help cover their employees or help finance insurance. He calls for reform of insurance laws, expansion of Medicaid and SCHIP, new tax credits, and innovative steps to contain health care costs. He says his regional health market purchasing pools would be designed to give Americans the bargaining power to purchase affordable, high-quality plans.
During a speech in Iowa, he said his proposal would require Americans to see a doctor for preventive health care. If you are going to be in the system, you can't choose not to go to the doctor for 20 years.
Sen. Obama has called for a new public insurance program for Americans who do not qualify for Medicaid or SCHIP and do not have access to employer-paid insurance. His proposal would also establish a National Health Insurance Exchange to reform the private insurance market and help Americans and businesses to purchase private health insurance directly.
The senator says his plan would reduce costs and save a typical American family up to $2,500 each year. He advocates adoption of health information technology, improved access to preventive care, hospital cost and quality report cards, and lower drug costs by allowing the importation of safe medicines from other countries.
The Democratic candidates have indicated that they are willing to put substantial public money into health care reform. The estimated costs of their plans are:
Clinton-approximately $110 billion
Edwards-$90 to $120 billion
Obama-$50 to 65 billion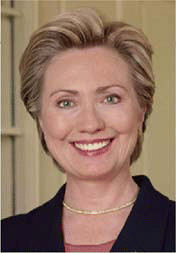 Hillary Clinton would offer a health-choices menu of private insurance options, a refundable tax credit so working families could buy health coverage, and a health care tax credit for small businesses.
The Other Democrats Weigh In
The other Democratic Party candidates agree with the concept of mandatory insurance.
Senator Joe Biden seeks to cover all children under age 18 and expand coverage for the most vulnerable members of society. To cover his proposals, he would allow tax cuts to expire for those in top earnings brackets, keep the inheritance tax, use efficient Internet technology, and use savings from an end to the Iraq war to help pay for his program.