Should Employers Be Financing Health Care?
Meanwhile, the presidential candidates (except for Gov. Huckabee) have not yet endorsed a shift away from employer-financed health care. This fall, the Committee for Economic Development (CED), an independent, nonpartisan organization of business and education leaders, released a lengthy report saying that businesses are hard-pressed to maintain their health-insurance commitments to their employees and remain competitive.
The report, largely under the guidance of Stanford's Alain Enthoven and the CED's Joseph Minarik, notes that the CED does not support either a government-run command-and-control system, or a so-called consumer-directed system under which individuals would take at least implicit responsibility for choosing their own therapies and treatments. Rather, the organization recommends market-based consumer choice among competing insurance and care-delivery plans that meet quality and coverage standards, where individuals would receive a fixed-dollar credit to pay for premiums, so that they can purchase one of many competing private insurance plans. Tax credits for employer-financed health care would end.
The report also calls for mandatory and standardized reporting of quality and performance by insurers, and recommends the establishment of an independent regulatory agency to report on the state of the health-care sector in terms of inflation and affordability, and ensure the efficiency and fairness of the insurance market.
Although the presidential candidates have not endorsed the CED plan, nor advocated a shift away from the traditional employer-paid health insurance plans, a Congressional measure co-sponsored by Democratic Sen. Ron Wyden of Oregon and Republican Sen. Robert Bennett of Utah considers this controversial option.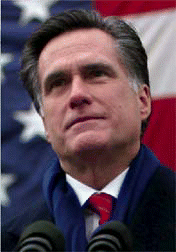 Mitt Romney feels that instead of using federal money to reimburse hospitals for treating people without insurance, that money should be used to help low-income people buy insurance at a lower cost.
Can We Retain Quality and Safety?
Whatever course the next president chooses, there is little doubt that America's health care delivery system will look different in years to come. With that knowledge come several questions. Will America retain its record of quality, safety, and innovation in health care and medical science? Will universal care or an enhanced free-market system allow medical professionals to better concentrate on healing the patient, rather than dealing with insurance hassles and malpractice liability? Will the practice of medicine become more efficient, or be bogged down in bureaucracy?
While the debates continue, Americans mull over their choices and hope for the best.
©2007 The Triological Society