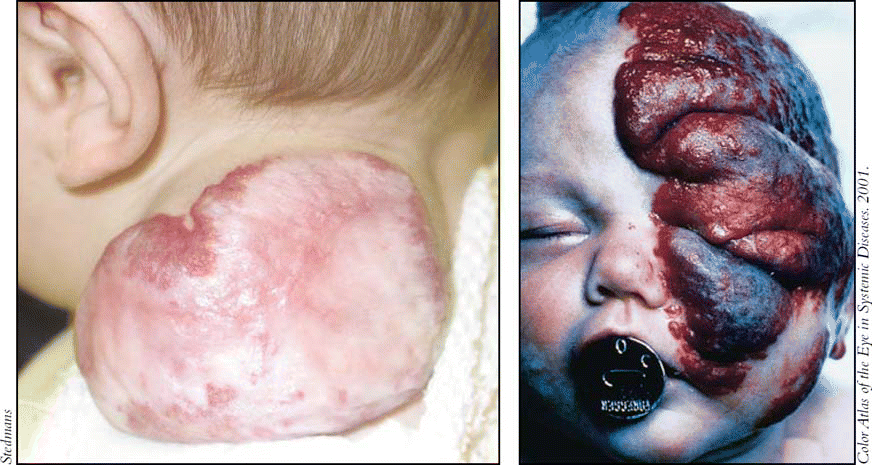 click for large version
Figure. Some hemangiomas, such as large neck hemangiomas (left) or periorbital hemangiomas (right), require management beyond observation because of their potential to be disfiguring, damaging, or even life-threatening.
Kaposiform hemangioendotheliomas have a distinct appearance and are radiologically and histologically distinct from hemangiomas. They look like bruises and are boggy, Dr. Blei noted.
Management of Hemangiomas
Management of hemangiomas is cross-disciplinary. Patients with infantile hemangiomas can be seen by otolaryngologists, head and neck surgeons, pediatric dermatologists, pediatric oncologists, hematologists, and general and plastic surgeons. Interviews with experts suggest that the various specialties have different perspectives on the timing and types of treatments that they consider appropriate.
Although the vast majority of infantile hemangiomas require no treatment except observation, some important exceptions require special consideration. These include large, disfiguring hemangiomas on the face or neck; periocular or periorbital hemangiomas that can affect vision; hemangiomas on the nose that can interfere with breathing; and hemangiomas in the beard distribution-that is, in front of the ears, on the chin and the upper lip, and the anterior neck. Those in the beard distribution carry a high risk of an accompanying symptomatic airway hemangioma, which can cause death due to asphyxiation if large and circumferential, Dr. Blei explained.
Pages: First | ← Previous | ... | 2 |3 | 4 | ... | Next → | Last | Single Page