For many years, all vascular anomalies were called hemangiomas. New insights over the past decade into the biology of infantile hemangiomas have led to a revised system of classification for these entities. The majority of hemangiomas appear on the head and neck, and otolaryngologists-head and neck surgeons are often the treating or consulting physicians. It is important for them and other specialists who see these lesions to be aware that there are important distinctions between garden variety hemangiomas (which account for the vast majority) and hemangiomas that can be more serious, even life-threatening.
Embryogenesis and Classification
The field is evolving and hemangiomas are a fertile area of research. Hemangiomas have a fascinating life cycle. They do not grow in utero, but blossom during the first few weeks of life. Most of them grow and resolve on their own. Hemangiomas hold a secret, and if we could understand why they grow and why they resolve, we might find a key for curing cancers, stated Francine Blei, MD, a pediatric hematologist/oncologist and Director of the Vascular Anomalies Program at New York University in New York City.
At present, there is no cohesive theory of the etiology of infantile hemangiomas, and the clinical heterogeneity suggests that there are multifactorial origins, Dr. Blei said. Some evidence suggests that the embryogenesis of hemangiomas involves cells of origin derived from the placenta that migrate into the fetal circulation during the first few weeks of life, when the fetus is mostly head and neck, explained Milton Waner, MD, Director of the Vascular and Birthmark Institute in New York City. Dr. Waner is an otolaryngologist-head and neck surgeon.
All vascular lesions are not hemangiomas. In the old days, hemangioma was a 'waste basket' term for any type of vascular malformation. Unfortunately, some physicians still apply that definition, Dr. Waner commented.
Dr. Waner described a new classification system for vascular anomalies that includes three major categories: 1) hemangiomas; 2) vascular malformations; 3) vascular tumors, including RICH (rapidly involuting tumors), NICH (non-involuting tumors), and Kaposiform hemangioendothelioma. GLUT-1 (glucose transporter isoform-1) staining, a recent advance, is used to differentiate between vascular anomalies based on histopathology.
Hemangiomas hold a secret, and if we could understand why they grow and why they resolve, we might find a key for curing cancers. – -Francine Blei, MD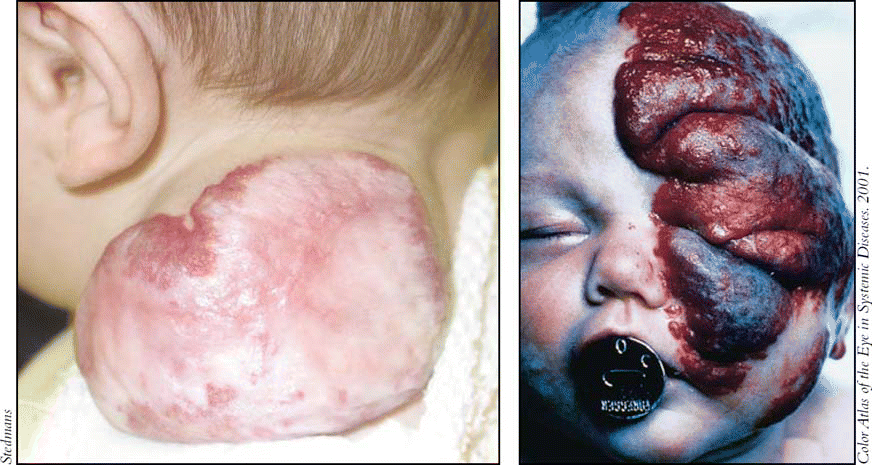 click for large version
Figure. Some hemangiomas, such as large neck hemangiomas (left) or periorbital hemangiomas (right), require management beyond observation because of their potential to be disfiguring, damaging, or even life-threatening.
Kaposiform hemangioendotheliomas have a distinct appearance and are radiologically and histologically distinct from hemangiomas. They look like bruises and are boggy, Dr. Blei noted.
Management of Hemangiomas
Management of hemangiomas is cross-disciplinary. Patients with infantile hemangiomas can be seen by otolaryngologists, head and neck surgeons, pediatric dermatologists, pediatric oncologists, hematologists, and general and plastic surgeons. Interviews with experts suggest that the various specialties have different perspectives on the timing and types of treatments that they consider appropriate.