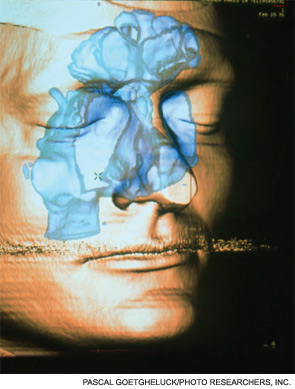 Three-dimensional computed tomography (CT) scan showing the sinuses (blue).
Otolaryngologists who provide computed tomography (CT) imaging are being urged to apply before summer to ensure their compliance with the 2008 Medicare Improvements for Patients and Providers Act (MIPPA) accreditation requirement.
"The time is now, and it gets shorter by the second," said Pamela A. Wilcox, RN, MBA, assistant executive director for quality and safety with the American College of Radiology (ACR).
Section 135(a) of MIPPA stipulates that as of Jan. 1, 2012, all suppliers who furnish the technical component of advanced diagnostic imaging (ADI) and bill under the physician fee schedule must be accredited in order to receive payment from CMS/Medicare (Federal Register, Nov. 25, 2009; Vol. 74, No. 226, p. 61865).
Otolaryngologists who have installed limited use (cone beam or volume) computed CT scanners fall under this rule, as do those who offer conventional CT. Other ADI modalities, such as MRI and PET scans, are also included in the rule, but the focus is primarily on cone beam CT scans, which have recently increased in ENT practices. Accreditation can take three to four months (longer if initial accreditation is delayed due to deficiencies), but initiating the application process early can help avoid a logjam at the end of the year.
It is not known how many currently unaccredited otolaryngologists use the cone beam scanners. General Manager Steven Meier of Xoran Technologies (Ann Arbor, Mich.), the major supplier of cone beam CT scanners to ENT practices, said the company has installed "hundreds" of its miniCATs in ENT practices. Their installations have not been correlated with accreditation applications, however.
"There is no magic list as to who the impacted providers are. That's why we're taking steps to reach out to otolaryngologists and their administrators to make sure they're aware of this effective date," said Tamara A. Sloper, director of marketing for the Intersocietal Accreditation Commission (IAC).
Writing on the Wall
The CMS/MIPPA accreditation rule was triggered by concerns about cost and utilization. A Congressional-commissioned report, MedPac Report to the Congres in June, 2005, noted a 22 percent spending increase for imaging services under the physician fee schedule in 2004 alone. The report also questioned whether all the increases represented services that beneficiaries needed.
Concerns about radiation dosage and safety have also played a role, according to Gavin Setzen, MD, FACS, FAAOA, president-elect of the Intersocietal Commission for the Accreditation of Computed Tomography Laboratories (ICACTL) and principal of Albany ENT & Allergy Services, PC in Albany, N.Y. The National Institutes of Health, for example, held a Feb. 24-25 summit focusing on management of radiation dose in CT in Bethesda, citing a three-fold increase in CT scans from 1999 to 2009.