Even though the AAO-HNS guidelines were established in 1995, they are still relevant because there hasn't been a significant change in our understanding of the management and treatment of Ménière's disease since then, said Dr. Megerian. Truth be told, the conservative treatment for Ménière's disease hasn't really changed much since the early 1900s.
All patients begin management of their disease through lifestyle and dietary changes to reduce the number of attacks. Physicians encourage their patients to avoid alcohol, caffeine, excessive fatigue, smoking, and stress, as well as to eat properly, get plenty of sleep, and remain physically active.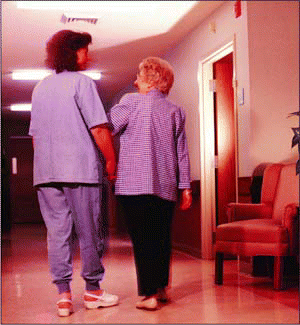 click for large version
Figure. Hospitals are developing balance therapy programs for patients with Ménière's disease and other conditions that affect balance.
The Hydrops Diet, which involves reducing salt intake and taking a diuretic (triamterene/hydrochlorothiazide [Dyazide], amiloride/HCTZ [Moduretic], acetazolamide [Diamox]) for at least a three-month trial period, is intended to keep sodium concentrations in the inner ear from fluctuating, which causes the symptoms of hydrops. Strict adherence to a 1.5- to 2.0-gram salt diet stabilizes symptoms in most patients;2 some otolaryngologists refer patients to a dietician to help with this dietary challenge.
I also recommend that my patients drink six to eight glasses of water per day because it dilutes the sodium concentration and lowers their tendency to retain fluids, said Dr. Megerian.
Patients who present with acute, severe vertigo may be treated with vestibulosuppressants (meclizine [Antivert], lorazepam [Ativan], clonazepam [Klonapin], diazepam [Valium]) and antiemetics (promethazine [Phenergan], prochlorperazine [Compazine]), which are used on an as-needed basis, as they cause drowsiness and harm in the long term.1 Similar medications are also used in between attacks.
The majority of, if not all, ENTs agree that the treatment of Ménière's disease begins with the Hydrops Diet and medications to mitigate or prevent symptoms, said Dr. Hoffer.
Almost 90 percent of patients are adequately managed and have resolution of their vertigo and stabilization of their hearing with this conservative treatment, added Dr. Megerian. Many well-respected otolaryngologists agree that Ménière's disease is more a medical than a surgical disorder. Only 10 to 15 percent of patients must try further interventions, some more destructive than others, but this still represents a large number of patients.
The batting order, as to what treatments come next, is not only controversial, but dependent upon the ENT's training, comfort level with specific therapies and geographic practice location.
In my practice, I commonly treat patients who have intractable Ménière's disease with intratympanic gentamicin and endolymphatic sac decompression or shunt to control their vertigo, said Dr. Megerian.