Salivary gland malignancies affect 2.5 to 3 in 100,000 people each year in the United States, and comprise only 6% of head and neck cancers.1,2 Despite current imaging technologies, tumor location and heterogeneity render diagnosis and treatment decisions challenging for the treatment team. Dealing with treatment sequelae is often daunting for patients, who can face potentially devastating side effects, such as disfigurement and facial nerve paralysis.
Jesus E. Medina, MD, currently the Paul and Ruth Jonas Professor and Chairman of the Department of Otorhinolaryngology at the University of Oklahoma, has treated these patients at his tertiary referral center in Oklahoma City for more than 20 years. In that time, Dr. Medina has observed the refinement of diagnosis using superior imaging techniques in combination with fine-needle aspiration biopsy. The addition of neutron beam radiation, and facial nerve reconstruction options, have also moved the field forward. Combination treatment using surgery and radiation therapy has had a tremendous effect in our ability to give these patients a long term of tumor-free survival, he said.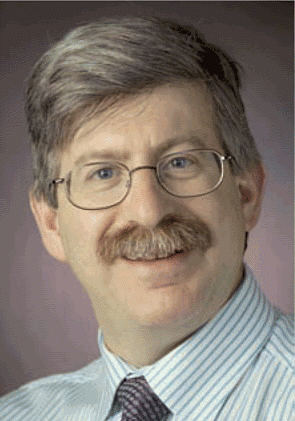 Fine-needle aspiration biopsy is very dependent on the expertise of your cytopathologist. Most people believe their needle-and this can lead to some errors in treatment. [Results of a fine-needle aspiration biopsy] are not always correct. It's just one piece of data.
-Barry M. Schaitkin, MD
Not Only Rare, but Also Diverse
At least 90% of parotid tumors are benign, but the parotid remains the most common site of malignant tumors. According to the American Cancer Society, approximately 80% of malignant salivary gland tumors originate in the parotid gland; 10% to 15% in the submandibular gland; and the remainder in the sublingual and minor salivary glands.3 Tumors in the latter tend to be malignant but are quite uncommon. As has been reported in Australian studies, the parotid is also a frequent site of metastasis from melanoma.4 Those at risk to develop salivary gland malignancies include people over the age of 50; people who received radiation treatment to the head and neck in childhood or young adulthood (such as for acne or tonsillitis); and heavy smokers (Warthin's tumor).
The umbrella term salivary gland malignancies includes a broad spectrum of histologic tumor types. A 1999 epidemiologic study from Alabama found mucoepidermoid carcinomas to be the most frequent malignancy.5 These tumors develop most often in the parotid glands, and can vary from low- to high-grade. Adenoid cystic carcinoma (ACC) is slow-growing but persistent, leading to relatively favorable short-term prognosis but a poor prognosis beyond 10 years due to common late recurrences. ACC tumors tend to metastasize to the lungs. Most ACCs also arise in the parotid gland, and also tend to be slow-growing. Polymorphous low-grade adenocarcinomas originate most commonly in the minor salivary glands. Rare types of adenocarcinomas include basal cell adenocarcinoma, clear cell carcinoma, cystadenocarcinoma, sebaceous adenocarcinoma, oncocytic carcinoma and others. Small- and large-cell undifferentiated carcinomas are high-grade cancers that tend to spread, contributing to poor prognoses for these patients.
Thorough Diagnostics Required
Patients with salivary gland tumors often seek medical attention when they have a palpable, painless mass in either the parotid or submandibular region. Generally, most patients are not quick to come in [for diagnosis], noted Barry M. Schaitkin, MD, Professor of Otolaryngology at the University of Pittsburgh School of Medicine. Perhaps one reason for this is that the vast majority of salivary gland tumors-especially those originating in the parotid gland-are benign and slow-growing. The clinician might suspect malignancy if the patient has facial numbness; new muscle weakness on one side of the face; pain in the face, neck, or mouth; skin fixation; or enlarged lymph nodes, indicating metastasis.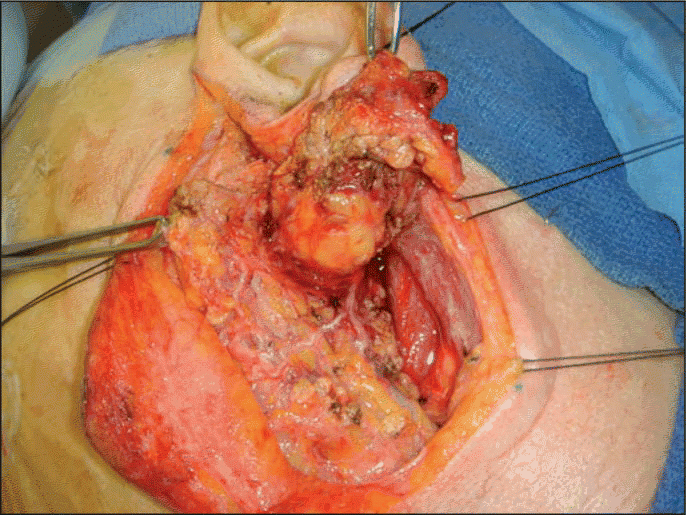 click for large version
Figure. Closeup of a parotidectomy in progress. Photo courtesy of Dr. David Eisele.
Diagnosis of salivary gland malignancy is not always straightforward, and diagnostic practices vary across regions. Following a full history and physical, as well as an imaging study (either CT or MRI), many head and neck surgeons perform tumor resection to establish a diagnosis. Some, like Dr. Medina, recommend doing a fine-needle aspiration (FNA) biopsy instead. If you have a doubt, stick a needle in it, he said. Don't open it; don't march in to do an open biopsy.