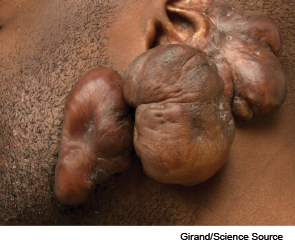 Keloid scars following folliculitis.
Keloids are incredibly common in some patient populations. These abnormal scars, which grow well beyond the border of the original injury site, are typically unsightly, inconvenient, and often uncomfortable. Keloids cause pain, pruritis, and even hyperesthesia, as well as social discomfort and embarrassment.
Until recently, very little was known about the etiology of keloids, and even less was known about how to effectively treat and manage these growths. Surgical excision is frequently inadequate, because many, if not most, keloids recur after excision. Other treatment measures, including corticosteroid injection and the use of pressure dressings, were based on medical intuition and anecdotal evidence more than on scientific research.
Not surprisingly, keloids remain a challenge for patients and practitioners alike. Fortunately, new research is beginning to reveal more about the etiology of keloids. Innovative treatments continue to hit the market, with more anticipated in the future. Experts predict that biologic therapies may eventually be used to treat—and even prevent—keloids. There's even hope that an increasing understanding of keloid formation and treatment will lead to innovations within the field of plastic surgery.
"When you look at facial plastics, our nemesis is scar formation," said Lamont R. Jones, MD, vice chair of the department of otolaryngology–head and neck surgery at Henry Ford Hospital in Detroit. "What is exciting about studying keloids is that if we understand what's going on in keloids, we can exploit that knowledge for other uses in facial plastics."
Epigenetic Link
Because keloids are most commonly seen in people of African, Hispanic, and Asian descent, researchers have long suspected a genetic component to keloid formation. The observation that more than half of all patients with keloids report a family history of keloid scarring has strengthened that suspicion (Mol Med. 2011;17:113-125).
By 2008, researchers had identified at least one autosomal dominant inheritance pattern of keloids and some genes (most notably HLA-DRB1*15 and DQB1*0503) associated with an increased risk of keloid scarring (Mol Med. 2011;17:113-125). But keloids have also been associated with immune response and blood type, leading researchers to believe that keloid formation is much more complex than the presence, absence, or mutation of any one gene.
"Most disease conditions are complex. A lot of times, there is not just one gene that's involved but a pathway. There may be multiple genes that come together to help produce whatever the end result may be," Dr. Jones said. "So, identifying a gene and pathways may key you into the bigger picture of what's going on with that process, and identifying that gives you the opportunity to look at other relationships, which may be more important than a particular gene alone."