ENT Mentorship Program for Preclinical Medical Students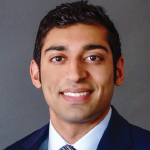 Ateam of researchers from The Ohio State University Wexner Medical Center in Columbus embarked on an effort to increase early exposure to otolaryngology. Rishabh Sethia MD, a first-year otolaryngology resident, presented the work, "ENT Mentorship Program for Preclinical Medical Students."
Existing research shows that medical students have limited early exposure to surgical specialties, with only 59% of medical schools requiring a preclinical otolaryngology module. Additionally, he said, "The otolaryngology residency match is only getting more competitive: In the class of 2018, 95% matched, while in the class of 2019, it was only 71%."
The goals of the program were to increase early exposure to otolaryngology by introducing surgical mentorship, providing education on the residency application process, and offering career advising/networking/research opportunities. The ENT Mentorship Program the researchers developed involved a minimum of eight hours per month in the clinic or operating room. Each participant was matched with an otolaryngology faculty member who became involved in the student's research.
Program evaluation was based on final oral presentations and mentor evaluations, and students were eligible for pre-clinical elective credit through The Ohio State University College of Medicine (OSUCOM). The investigators hosted a pre-residency transition and administered longitudinal surveys.
Thirty-five students have participated in the program since it began. Of surveyed students, 54% reported no previous exposure to otolaryngology and 62% became involved in otolaryngology research due to connections built during this program, said Dr. Sethia.
The post-program survey asked participating and nonparticipating students to rate their ability to perform clinically and their familiarity with the department of interest.
The data showed that, in all categories, those who participated in the mentoring program reported higher scores than those who did not. For 2017, only one student from OSUCOM matched into otolaryngology; the number climbed to 12 students in 2018. "This indeed may reflect a correlation with the implementation of our program," Dr. Sethia added.
Otoscopic Diagnosis Using Computer Vision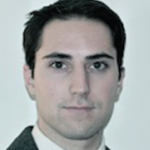 Devon Livingstone, MD, a fifth-year resident in the section of otolaryngology–head and neck surgery at the University of Calgary, Alberta, undertook a project to determine whether automated machine learning could be used to build an algorithm capable of accurately diagnosing otologic disease.
"General practitioners (GPs) only achieve 50% accuracy when diagnosing acute otitis media and serious otitis media, and access to otolaryngologists is limited in many locations," said Dr. Livingstone. "In an attempt to improve this, I trained a neural network, which is a computer program modeled on the organization of the brain."
The program relies on artificial intelligence (AI) to optimally construct the neural network, he added. AI is rapidly expanding. Dr. Livingstone and his team built a hardware-agnostic algorithm using a database of 1,366 otoscopic images and trained it to diagnose 14 otologic conditions. The algorithm can also diagnose multiple conditions simultaneously (i.e., an extruded tympanostomy tube in a patient with a retraction and an effusion). The diagnostic threshold is set for each condition to optimize accuracy and patient safety. Using a test set of 89 algorithm-naïve images, the researchers obtained an average positive predictive value of 90.9% and a sensitivity of 86.1%.
In the study, 10 physicians (five junior otolaryngology residents, two general practitioners, one pediatric resident, one internal medicine resident, and one emergency medicine resident) were tested on the same 89 images. For nearly every diagnosis, the algorithm performed significantly better than the physicians, said Dr. Livingstone.
"This algorithm could be embedded into a digital otoscope platform to decrease healthcare costs and streamline the triage of consultations," he added. "There is excellent potential for this algorithm in rural, remote, and low-resource health systems across the world."
Departmental Education and Standardized Guidelines Decrease Number and Amount of Opioid Prescriptions
To assess whether education and guidelines can reduce opioid prescribing, Katherine Lees, MD, chief resident at the Mayo Clinic in Rochester, Minn., undertook a project to address the prescribing practices of her department. "Recent evidence shows that 70% to 80% of the opioid pills we prescribe after surgery aren't being used by patients," she said. "When we examined the opioid prescribing practices of our department, we were fairly shocked by the amount and variability we found, likely due to the lack of clear evidence to guide our prescribing practices."
She and her team developed standardized prescribing recommendations with the help of pharmacists, pain specialists, and similar initiatives from other surgical departments. They then provided formal opioid prescribing education at the department of otolaryngology grand rounds and introduced the guidelines.
The investigators compared the opioid prescription amounts and refill rates for a number of procedures before and after implementation of formal education and guidelines. Although there was no difference in the number of patients who received an opioid prescription, the team found that the amount of opioids prescribed decreased by about 50%—from 20 tabs of oxycodone to 10. There was also a decrease in variability of these prescriptions among providers. Importantly, she added, there was no change in the refill rates, suggesting that, even though practitioners are prescribing less, patients still experienced adequate pain management.
"We've expanded our guidelines to the otolaryngology departments at Mayo in Florida and Arizona, and will continue to make adjustments to the guidelines based on patient and provider feedback," she said. "This has just been the first step in changing how we manage patients' pain after surgery, but so far it has been very well received by our practitioners and patients alike."
Improving Inpatient Resident Hand-Offs and Transitions of Care
To explore ways to improve the accuracy of resident handoffs, a team from Virginia Commonwealth University in Richmond undertook a quality improvement (QI) initiative. Their work was presented by Austin N. DeHart, MD, who is now a fellow in pediatric otolaryngology at Arkansas Children's Hospital in Little Rock.
"We know that 20% to 40% of malpractice claims are associated with patient handoffs, communication failures, and transitions of care," said Dr. DeHart. "The ACGME has new requirements that programs ensure and monitor effective and structured handoffs in order to facilitate the continuity of care and patient safety."
Their institute is a tertiary care academic hospital with residents who rotate among multiple teams and cross-cover call, so there are numerous handoffs every day. "We were using a handwritten list to keep track of patients during rounds and handoffs, which took a lot of time to make and were variable in quality," she said.
She and her team wanted to see if a computer could improve the process and initiated a QI project to determine if they could create a computer-generated list that would save time and improve accuracy. They performed a retrospective analysis of the handwritten lists over a one-month period and found large variability in the accuracy and reliability among the lists, depending on who made them. They used this information to obtain support from the bioinformatics department to contract with a third party to create a computer-generated list.
"Once the residents were familiar with the computer-generated list, we held a workshop where all team members created both lists and compared the processes," she said. A survey of the trainees revealed that 100% found the computer-
generated lists helpful and 80% indicated that the computer-generated lists were better for patient care; 70% preferred the computer-generated list to the handwritten list.
"One of the positive aspects of a handwritten list is that it forces you to actively think about what is required," said Dr. DeHart. "But, obviously, too many things are being missed with this method." 
---
Elizabeth Hofheinz is a freelance medical writer based in Louisiana.
Mentorship Program Goals
Early exposure to the profession of otolaryngology
Early introduction of surgical mentorship
Feedback-oriented longitudinal clinical experience
Education on the residency application process
Career advice, networking, and research opportunities
Focus on professionalism.