Optical coherence tomography (OCT) provides a method to view tissues at the micron level, and for the delicate tissues of the vocal folds, this procedure offers much of the cellular information of a biopsy without the associated morbidity.
OCT is an emerging technology, which in many disciplines is still investigational, said Brian J. F. Wong, MD, PhD, Associate Professor of Otolaryngology-Head and Neck Surgery at the University of California-Irvine.
I think the most important thing that OCT of the head and neck allows you to determine is the integrity of the basement membrane, said Dr. Wong, who is also associated with the Department of Biomedical Engineering and The Beckman Laser Institute at UC-Irvine, and in the case of early cancers, when the integrity of the basement membrane is compromised, one's index of suspicion with respect to early invasive cancer is extremely high.
There has been a gradual progression in the capabilities of this technology over time, Dr. Wong said. OCT is different from other imaging modalities in that it provides extremely high-resolution images which approach that of light microscopy.
OCT is an infrared imaging technology that is very similar in application to ultrasound, but instead of using sound waves, light waves are used.
Early Research, Promising Results
Dr. Wong and colleagues at UC-Irvine have been engaged in studies which have produced what is believed to be the largest clinical series of head and neck patients examined by OCT (Laryngoscope 2005;115:1904-1911).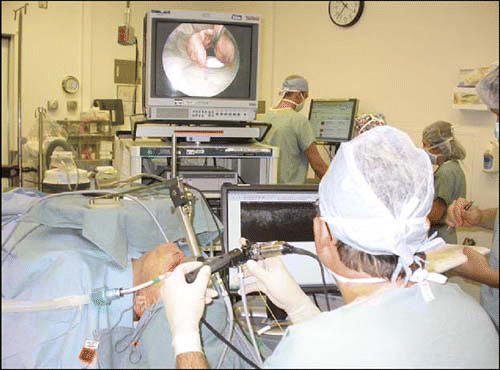 click for large version
Figure. Here the University of California-Irvine research team uses the prototype optical coherence tomography (OCT) device to image the tissues of a patient's larynx. The OTC image can be seen on the lower screen.
Detection of the disruption of tissues of the larynx basement membrane, which is the hallmark for invasive cancer, is one of the chief benefits of OCT, agreed William B. Armstrong, MD, Associate Professor of Clinical Otolaryngology at UC-Irvine. A colleague of Dr. Wong's, Dr. Armstrong is also working on a prototype OCT device being developed by scientists and researchers at the Beckman Laser Institute.
Dr. Armstrong presented findings recently on his work with OCT and head and neck cancer patients at the Middle/Western Section of the Triological Society Meeting earlier this year in San Diego.
How OCT Works
OCT is an imaging modality that uses light to produce cross-sectional images of tissue, Dr. Wong said. This technology was developed by James G. Fujimoto, MD, and colleagues at the Massachusetts Institute of Technology (Science 1991;254:1178-1181).