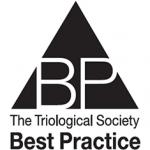 TRIO Best Practice articles are brief, structured reviews designed to provide the busy clinician with a handy outline and reference for day-to-day clinical decision making. The ENTtoday summaries below include the Background and Best Practice sections of the original article. To view the complete Laryngoscope articles free of charge, visit Laryngoscope.com.
Background
Tympanic membrane perforation is a common pediatric otolaryngology diagnosis that most frequently occurs after myringotomy tube extrusion, complicated otitis media, or traumatic perforation. Repair is often necessary if it does not heal spontaneously. Untreated perforations can lead to conductive hearing loss, speech delays, chronic otorrhea, the need for precautions during water sports, and migration of squamous epithelium into the middle ear space where it can form cholesteatoma. Repair is typically performed with autologous fascia and/or cartilage grafts and can be described as a tympanoplasty or myringoplasty. The reported success of repair ranges from 35% to 94%, which is lower than in the adult population. The variability in criteria for surgical and audiologic success contributes to the wide range reported in the literature. Duration, size, and location of the perforation; status of the contralateral middle ear; Eustachian tube function; adenoid hypertrophy; and surgeon experience can all influence the outcome. Disagreement exists regarding the optimal age to repair tympanic membrane perforations and whether there is benefit to waiting until the child is past a certain age. Many different algorithms for timing repair have been proposed. The purpose of this study is to evaluate the literature to determine the optimal time to repair tympanic membrane perforations in the pediatric population.
Best Practice
Based on the available data, age does not appear to directly mediate the perforation closure, hearing, or complication outcomes after tympanic membrane perforation repair in pediatric patients. Other factors are indicative of outcome, such as underlying Eustachian tube function based on the presence of recurrent otitis media and the aeration of the contralateral middle ear space. Therefore, there should not be a minimum age cutoff for considering tympanic membrane repair. It should be recommended as soon as clinically appropriate for each child because experiencing a similar surgical outcome at a younger age results in substantial time, cost, and quality of life savings for the child and family. Standardizing reports of anatomical and audiological success in future studies could help further elucidate the benefits of not delaying repair (Laryngoscope. 2016;126:2201–2202).