LAS VEGAS—A test that measures in real time how a noise stimulus on one side affects contralateral otoacoustic emissions (OAEs) could be a new, more accurate predictor of hearing in newborns, according to award-winning research presented at the Annual Meeting of the Triological Society, part of the Combined Otolaryngology Spring Meetings held here April 28-May 2.
Contralateral suppression, or the medial olivocochlear (MOC) reflex, could also be used to assess the effects on hearing of neonatal disorders like hyperbilirubinemia, said Adrian James, MD, a pediatric otorhinolaryngologist at the Hospital for Sick Children in Toronto.
Dr. James won the Mosher Award at the Triological Society's meeting for his work. In another research highlight, the society gave the Fowler Award to Philip Littlefield, MD, a neurotologist at the Walter Reed Army Medical Center, for his work on laser stimulation of auditory nerve fibers, which shows the potential to boost the quality of help for the hearing impaired. That research was done at Northwestern University in Chicago under the mentorship of Claus Peter-Richter MD, PhD.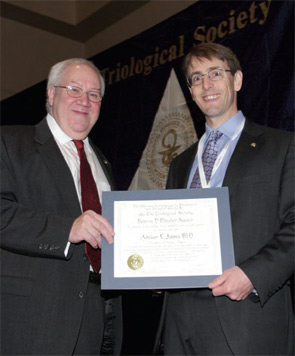 Adrian James, MD, accepts the Mosher Award
Mosher Award
In Dr. James' work, testing contralateral suppression was a better predictor of hearing outcomes in hyperbilirubinemia-affected infants than the standard auditory brainstem response (ABR) test. In contralateral suppression, a noise stimulus in one ear causes a signal to pass along the cochlear nerve across the brainstem to the other side, where it has the effect of reducing otoacoustic emissions.
It is known that in certain forms of auditory neuropathy, this reflex is lost. But Dr. James thought that conditions with more variable severity might have a varied effect on the reflex. The test is done by giving a sound stimulus, then detecting OAEs with digital filtering, which gives a continuous readout of the response.
In unsedated infants with normal hearing who were tested in the noisy neonatal intensive care unit (NICU), all had a detectable contralateral suppression response. "This demonstrated that it's a feasible test even in the acoustically inhospitable environment of the NICU," Dr. James said.
In infants with hyperbilirubinemia, the OAE levels dipped down within the same amount of time as those without, but it took longer for OAEs to come back up after the stimulus stopped. "It's quite plausible that the brainstem is where hyperbilirubinemia is affecting the pathway, although further work would have to be done to substantiate this hypothesis," Dr. James said.