Researchers took a closer look at five infants with auditory neuropathy spectrum disorder (ANSD) to see how well the contralateral suppression response could predict hearing.
All of the infants failed the ABR test, but three of them still had intact contralateral suppression. The researchers discovered on follow-up that all the infants with a contralateral suppression response actually had normal hearing, though a fourth infant without the suppression response also had normal hearing. "You can see that this test is a much better predictor of hearing outcome than the ABR was in the neonatal period," Dr. James said.
He hopes the work leads to broad application. "We're able to measure various characteristics of these responses that might have clinical usefulness," Dr. James said. "We can see particularly that it could be helpful in the assessment of auditory neuropathy spectrum disorder, a condition [in] which [it] is notoriously difficult to predict ultimate hearing function in neonates."
Daniel Choo, MD, director of otology/neurotology at Cincinnati Children's Hospital Medical Center, said assessing infant hearing is "probably one of the greatest clinical challenges" in his field today. "Now that we're required to test all these infants right at birth for hearing, we're trying to find the most sensitive, routine, very easy-to-administer kind of test," he said. "Right now, most places will refer about 3 percent of babies that they test. Not all 3 percent have true hearing loss. It's probably one percent or less. So his test could actually be one of the things that improves that sensitivity and specificity."
That could help with cost, too, he said. "These days, the more babies that you refer that are false positives, the costs put a burden on the system," he said. "So any little efficiencies that we can shave into it are really very significant."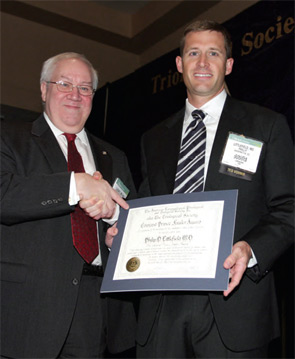 Philip Littlefi eld, MD, accepts the Fowler Award
Fowler Award
In Dr. Littlefield's study, a laser passing light through the round window to the spiral ganglion cell groups was able to stimulate the cells at rates fast enough to generate useful auditory information. "The laser and electric stimulations are different, but their advantages can be selectively exploited in future cochlear implants," he said.
A prototype device has been implanted in a cat to assess the long-term effects of the light stimulation, he said. The researchers are also experimenting with a mixture of laser and electrical stimulation for possible hybrid devices.