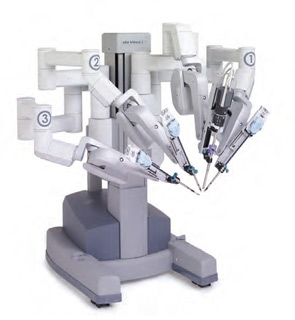 The da Vinci Si system allows the surgeon to operate three robotic arms simultaneously, while positioning a fourth arm to hold tissue in place
Safety Profile
Thom E. Lobe, MD, and colleagues at the Iowa Methodist Medical Center in Des Moines, Iowa reported the first use of a da Vinci surgery via an axillary incision in a 2005 paper (J. Laparoendosc Adv Surg Tech A. 2005;15(6):647-652). During the procedure, Dr. Lobe and colleagues retained the traditional technique of insufflating the area around the thyroid with carbon dioxide to create an operating space. The gas sometimes causes post-surgical discomfort and may lead to complications.
To avoid gas insufflation, Dr. Chung developed a special retractor that enables him to open a pathway between the incision in the armpit and the thyroid (Head Neck. 2010;32(1):121-126). His procedure involves placing the patient in a supine position and lifting one arm to expose the armpit. A vertical incision provides access over the pectoralis major muscle and clavicle, through the bloodless space made by the two branches of the sternocleidomastoid muscle, finally reaching the thyroid itself after detaching the carotid sheath from the lateral border of the strap muscles. Dr. Chung's retractor is then inserted through the incision, creating a tunnel for three of the four robotic arms. A fourth robot arm gains access to the thyroid through a small incision in the chest.
During a 10-month period ending in July 2008, Dr. Chung and colleagues at Yonsei University performed thyroidectomy on 200 patients (192 women and eight men) using the da Vinci robotic arms through an axillary incision and the retractor to avoid insufflation. The mean time of the operations was two hours and 21 minutes, with the physician spending less than an hour at the console operating the robotic arms. Eight patients reported hoarseness, and one suffered damage to the recurrent laryngeal nerve, resulting in permanent loss of vocal cord movement. In their paper, Dr. Chung and colleagues concluded that the gasless, robotically assisted endoscopic thyroid surgery through an axillary incision "is both technically feasible and safe" (Surgery. 2009;146(6):1048-1055).
Pages: First | ← Previous | ... | 3 |4 | 5 | ... | Next → | Last | Single Page