Patients were evaluated at one week post surgery and after one and three months. Symptoms, including nasal obstruction, sneezing, itchy nose, hyposmia, headache, and snoring, improved in both treatment groups, based on patient-reported VAS scores. The improvements were all statistically significant at three months.
Postoperative pain was higher in the surgery-treated group than in the RFVTR-treated patients, but the difference was not statistically significant.
Crusting was common one week after treatment in the surgery group, with six patients having moderate crusting. The problem had resolved itself by one month after surgery. The side effect was not reported by patients or examining physicians for patients treated with RFVTR.
Finally, the team reported that the nasal mucociliary transport time increased at one week after surgery for the resected patients, while there was no change in those treated with RFVTR. There was no difference in this measure after one month.
Coblation
Fewer studies have been done to look at the effectiveness of coblation in reduction of turbinate hypertrophy. In one study, Dr. Bhattacharyya looked at a consecutive series of 26 patients with medically refractory nasal obstruction due to turbinate hypertrophy. Of the 24 patients who completed the protocol, statistically significant improvements in rhinosinusitis symptoms remained at six months.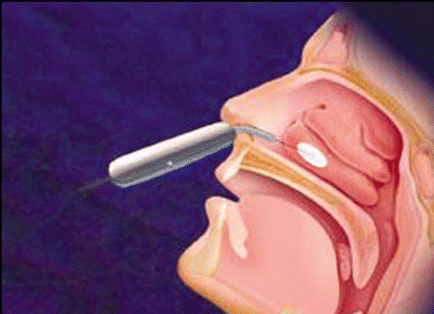 click for large version
Figure. Radiofrequency volumetric tissue reduction (somnoplasty) creates a lesion in the meaty part of the turbinate and causes necrosis or coagulation of the tissue, shrinking it from the inside.
Specifically, the team reported that nasal obstruction, the amount of time obstructed, and nasal stuffiness were improved at six months relative to baseline. However, the team did not see significant improvements in mucus production, postnasal discharge, or snoring at six months.
Two patients had significant bleeding, and crusting occurred in four patients. The crusting was resolved by the three month follow-up exam.
Choosing the Right Patients
So if both techniques work well, how does one choose which to use on a specific patient? Not all turbinates are created equal, said Dr. Bhattacharyya. If the anterior is enlarged he uses coblation, so that he can do the whole procedure in one sitting, using two or three passes. By contrast, if the whole turbinate is enlarged, he opts for RFVTR. He treats the anterior portion in the first appointment and the posterior region six weeks later. Some patients have bony large turbinates in which case neither technique will help. And if either procedure is used in such a case, it can damage the mucosa or expose the bone.