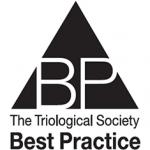 TRIO Best Practice articles are brief, structured reviews designed to provide the busy clinician with a handy outline and reference for day-to-day clinical decision making. The ENTtoday summaries below include the Background and Best Practice sections of the original article. To view the complete Laryngoscope articles free of charge, visit Laryngoscope.
Background
An enlarged vestibular aqueduct (EVA) is the most common structural anomaly visible on imaging studies to be associated with congenital hearing loss (HL) in children. Diagnosis of EVA is made by radiographic criteria. Hearing loss in patients with EVA can be either sensorineural or can have a conductive component—and can be stable, progressive, or fluctuating. Patients with EVA are commonly discouraged from playing contact sports due to concerns about a possible risk for sudden hearing drops (SHD) or vestibular dysfunction following even minor head trauma.
Best Practice
EVA has been associated with SHD following head injuries in a small proportion of EVA patients across multiple studies. These reports have all been retrospective and are highly prone to reporting bias. However, the progression of HL appears to be relatively common in EVA, and head trauma does not appear to be a risk factor for overall progression of HL. Thus, the SHD may have little impact on the eventual hearing outcome. Therefore, providers should make families aware of the possible association between EVA and SHD following head injuries, but families should be encouraged to make their own decision on whether contact sports should be permitted, taking into account that head trauma may not significantly impact the risk of overall hearing loss progression. There is currently insufficient evidence to support a recommendation that physicians should explicitly restrict patients from playing contact sports due to EVA alone (Laryngoscope. 2018;128:2219–2220).