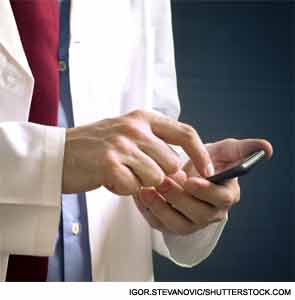 The desire to make a connection with patients, along with concern about keeping contact with them manageable, creates a certain tension over a staple of modern life: the ubiquitous cell phone. Should doctors call patients using their personal cell phones, and should patients be allowed to call doctors on these phones?
With many otolaryngologists and other physicians using cell phones as a matter of course throughout the day, physicians sometimes give out their cell phone numbers to patients, despite concerns about privacy. Others are not as inclined to do so.
Protecting Private Digits
Christina Gillespie, MD, an otolaryngologist at Ocean Otolaryngology Associates in Toms River, N.J., said she does not give out her number. "I don't make it a habit to give my cell phone number to patients," she said. "In my current job, we have an answering service [used during nights and weekends], so if they need to get hold of us they can call the answering service."
She sees her choice to not give her cell number out to patients as improving, rather than inhibiting, the logistics of patient care. Because the answering service is prompt and efficient at getting messages from patients, she has no concern that she won't get a message when it's appropriate.
Also, she said, there are times—during vacations, for example—when she is unavailable. In those cases, it is far better for patients who call the office to be connected to an answering service that will be able to put them in touch with a doctor on call. "They may be trying to reach you on your cell phone, but you may not be reachable; that also wouldn't be the best," she said. "To some extent, you have to have a system where patients should always be able to reach somebody without having to call multiple different numbers."
Physicians who want to make a call to a patient on a cell phone but prefer to keep the number private can simply hit *67 before dialing, change the phone's settings to turn "Show Caller ID" to off, or use a similar privacy setting.
Do Patients Want to Call?
A 2005 study assessed the way patients use physicians' cell phone numbers once they have them (Clin Orthop Relat Res. 2005;439:260-268). Calls to a secretary, a surgical scheduler, and a surgeon's cell phone number were recorded. Researchers found that 20 of 32 consecutive patients made 65 calls over two months. Only 12 of the calls, or 18%, were to the surgeon, and half of those 12 calls were considered "urgent" in nature, as opposed to 14% of the calls to the secretary and 15% of the calls to the scheduler.