Otolaryngologist Martin L. Hopp, MD, PhD, of Cedars-Sinai Hospital in Los Angeles, believes that in-office computed tomography (CT) scanning is the trifecta of care for otolaryngologists and their patients. This technology, he enthused, is a three-pronged positive effort. It's wonderful for any otolaryngologist who wants to improve patient care, reduce patient cost, and increase office income.
We were able to get adequate biopsy results 93% of the time without the patient having to go to a hospital-based institution, said the study's lead author, David L. Steward, MD, Director of the Thyroid and Parathyroid Program and Associate Professor in the Department of Otolaryngology/Head and Neck Surgery at the University of Cincinnati.
Newer, compact CT scanners, designed specifically to image the sinuses and temporal bone, can now be installed and operated in offices, and, manufacturers claim, they have the same accuracy as a full-body CT scanner, at one-fifth the cost.1
The first part of our two-part series on point-of-care CT scanners will address the benefits as well as disadvantages of incorporating the machines into otolaryngology practices. Part 2 will survey the accreditation and financial conflict of interest issues regarding this technology.
Always a Convenience?
You need a CT scan.
Those words, recalled rhinologist Michael Sillers, MD, past president of the American Rhinologic Society, were apt to provoke a long face from patients at the large University of Alabama multispecialty practice where he worked for 11 years. Because he cared for patients with complicated rhinologic problems, CT was an integral part of my practice, but I was dependent on scheduling and available time slots. When you add precertification requirements, it was kind of a quagmire. That meant scheduling delays and often an additional office visit to review results and obtain a diagnosis. When Dr. Sillers opened the Alabama Nasal and Sinus Center in Birmingham two and a half years ago, one of his first investments was an ENT-specific CT scanner. The patient acceptance and satisfaction, he reported, have been phenomenal.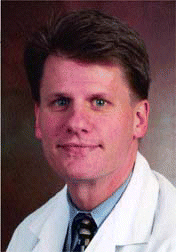 With point-of-service scanning you do not have to delay treatment or subject your patients to unnecessary treatment.
-Michael Sillers, MD
Access to CT scanners varies from institution to institution. At the Cleveland Clinic Foundation's Head and Neck Institute, for instance, Martin J. Citardi, MD, Section Head for Nasal and Sinus Disorders, stated that access to CT scans for his otolaryngology patients is a non-issue. We are an integrated health care system, and patients can be scanned in a Cleveland Clinic scanner easily. We can also easily view image data sent to us via the computer network.