Unlike the GammaKnife, which is used to treat lesions down to C1, the CyberKnife can be used to treat lesions involving head and neck, lung, kidney, and prostate, as well as all intracranial lesions with the exception of arterial-venous malformations. It can be used for trigeminal neuralgia but requires an invasive imaging study for planning purposes. The CyberKnife provides the ability to fractionate radiation doses and offers CT image-based planning, Dr. Daspit said. You can track the exact location of the patient for accuracy purposes during the treatment, he added.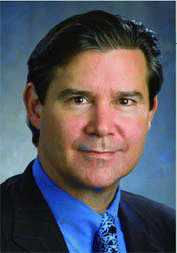 In order to be credentialed as a Gamma Knife surgeon, I would advise working closely with your hospital's credentialing committee.
-P. Ashley Wackym, MD
Dr. Daspit had no financial ties to disclose regarding this device, and he noted that both the GammaKnife and CyberKnife are available at the Barrow Institute.
If a patient with preserved hearing wants radiosurgery, I strongly suggest using the CyberKnife, he stated.
Hearing loss is noted much more commonly with the GammaKnife; however, experience to date suggests that hearing is more likely to be preserved with the CyberKnife. Dr. Daspit said, It should be stressed that the data are quite 'young' and much longer follow-up is required to be able to state categorically that fractionation offers better hearing preservation as well as tumor control.
Overall experience at the University of Pittsburgh utilizing the GammaKnife has been reported to offer tumor control rates in the 90% to 95% range over 15 to 20 years. It is not known whether the CyberKnife results will be comparable, as the data reported from Stanford University are only 10 years old. Hearing preservation rates vary in the literature from 40% to 70%, depending on which series is quoted and which device is utilized. According to the literature, facial nerve injury is low with both platforms-in the <2% range, Dr. Daspit said.
Dr. Daspit pointed out and recommended strongly that all interested physicians obtain and read carefully the most recent practice guidelines published by the International Radiosurgery Association at www.irsa.org , he said.
At Barrow Neurological Institute, the trend favors use of the CyberKnife, because most patients present with serviceable hearing and most patients would rather try to preserve their hearing. Also, many points chose a frameless system. At this point in time, our hearing preservation rates are in the 70% range with the CyberKnife and 40% with the GammaKnife, Dr. Daspit said.