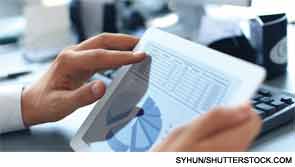 In an effort to explain how the American Board of Otolaryngology (ABOto) functions, ENTtoday has been publishing this series of informative articles. We hope you find this information helpful, and if you have any questions or comments, please feel free to contact the ABOto office at comments@aboto.org or 713-850-0399, or visit aboto.org.
The Finance Committee oversees and makes policy decisions regarding the ABOto financial operations. These functions include the day-to-day office operations, as well as those finances associated with the Otolaryngology Training Exam (OTE)/In-service exam, the Qualifying Exam, the Oral Exam, and MOC. In addition, the Finance Committee is charged with ensuring the long-term solvency of the ABOto.
As practicing otolaryngologists (academic and private practice), the 18 ABOto directors are sensitive to today's paradigm of increasing administrative costs (including professional dues) and diminishing clinical reimbursement. Given that fact, our working principal is to maintain all ABOto fees as low as possible while providing a secure and valid certification process and developing the programs to meet the evolving state and federal mandates for MOC.
ABOto income is derived primarily from the annual dues from lifelong certificate holders, annual fees from MOC participants, and the various exam fees. The ABOto periodically analyzes the expenses of each program and adjusts the charges so that each program covers its associated expenses. Annual dues are applied to general operating expenses.
The most recent change in the fee structure is the MOC annual fee. Because the first three components of MOC were rolled out over the period of a few years, the charge for each component was established as they were made available. Now that all four MOC components are available, and all of the modules will be produced in association with Wiley/CE City, it is possible to have a single annual fee that covers all components. The new annual fee of $310 is actually a reduction in what the individual charges were, plus Part IV is now included. As more diplomates participate in MOC, it will be possible to reduce the fee even more in the future.
The ABOto incurs ongoing expenses to develop and ensure that the various examinations are consistent with the current practice of otolaryngology-head and neck surgery. The oral exams are particularly expensive because we use approximately 100 examiners who must travel and be housed in Chicago. The ABOto and the specialty are fortunate that the oral examiners do this very important task on a voluntary basis and receive no compensation for their time.