Thus, for some patients, typically adults or teens, Dr. Papsin is currently satisfied with obtaining only an MRI. "It gives me all the information I need, and if I do see a structural abnormality that gives me pause, I can bring these patients back at another time for a CT scan; they're mature enough where they can handle that, usually without sedation," he said.
In Dr. Papsin's practice, however, the vast majority of his patients are children. And for those younger patients, he noted, repeat procedures are problematic. "Most of them are going to need to be sedated for these scans, so you really want to avoid bringing them back for another scan," he said. "That's one of the main reasons why 90 percent of the children in our practice get both types of scans in one setting."
Moreover, the two-scan strategy can be done with a minimum of logistical headaches and has some economic benefits as well. When children come in for an evaluation, "it's cost-effective to get them into a CT testing area, give them the scan and literally wheel them down the hall to an adjacent room where we have an MRI set up," Dr. Papsin explained. "It's one visit, one sedation, and a very efficient way to diagnose their hearing loss and their readiness for implantation."
Dr. Papsin said another benefit to doing both scans in one pre-operative visit is that once a cochlear device is implanted, undergoing a follow-up MRI is problematic because the scan's magnetic field can pull out the metal component of the implant. "So this may be our only chance to get a baseline MRI image of the brain and the inner ear; having that is a huge help in subsequently managing these patients," he said.

Image 1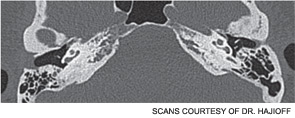 Image 2

Image 3
Images 1 and 2 are axial CT scans that do not show any abnormality, but image 3 is an MRI from the same patient showing no fluid signal in the right cochlea. This suggests intracochlear fibrosis and is an example of a critical abnormality that CT fails to detect but that is obvious on MRI, which is better at differentiating soft tissues.
Image 4

Image 5
Image 6
IImage 4 is an MRI showing abnormal cochleo-vestibular morphology. Images 5 and 6 are CTs from the same patient, which show the same morphology but with greater clarity, because CT has better spatial resolution and bony definition. (Other sections show the route of the facial nerve, which cannot be determined on the MRI.) This is an example of a critical abnormality that both MRI and CT can detect but is better illustrated by CT.
Another Study Yields Subtle Differences
Daniel Hajioff, FRCS, consultant ENT surgeon at University Hospitals Bristol in Bristol, United Kingdom, has also conducted a head-to-head trial of CT and MRI in the pre-operative imaging of CI candidates. But his reasons for doing the study offer an interesting counterbalance to Dr. Papsin's approach.