Michael M. Johns III, MD, is Director of the Emory Voice Center and Assistant Professor of Otolaryngology at Emory University in Atlanta.
We are on the verge of a crisis in geriatric medicine. Over the past 100 years, the proportion of Americans over age 65 has been growing incrementally. However, in the next several years, the number of people over age 65 will soar exponentially, with especially large increases in the >80 age group. Although the elderly currently make up approximately 12% of the population, this number will double as early as 2030.
Despite knowledge of the impending increase of elderly patients, our health care system is not ready. To care for this burgeoning geriatric population, substantial changes will be required in the way we deliver health care. In the Institute of Medicine report titled Retooling for an Aging America: Building the Health Care Workforce, committee chair John W. Rowe, MD, calls on all health care providers to become aware of what is upon us in geriatrics and to make changes to help effectively care for the aging American population. Changes will be critical in all areas of medicine, including otolaryngology.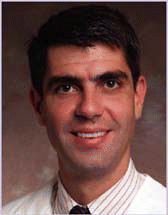 We need to lean on our leaders to work for increased payment for geriatric care. We also need to improve our knowledge and competence in geriatric care as a whole.
Scope of the Problem
Too many patients, not enough capacity-that is the problem in a nutshell. Two main factors are driving the growth in the geriatric population. The first is an increase in life expectancy. According to a report from the US Census Bureau, the number of centenarians nearly doubled, from about 37,000 to an estimated 70,000, during the 1990s. Analysts at the Census Bureau indicate that this per-decade doubling trend may continue. At this rate, the centenarian population could reach 834,000 or more by 2050. The second factor driving the growth in the geriatric population is the advancing age of the baby boom generation. Born in the two decades following World War II, the 78-million-person baby boom generation will reach retirement age beginning in 2011.
Coupled with the increase in the elderly population is a dramatic shortfall of both informal and formal geriatric caregivers. Informal caregivers, such as children of the elderly, play a critical role in the care of the older individual. Unfortunately, these are becoming scarce. Part of the reason is the decreasing number of births in Western society. Since 2003, no Western European country has been replacing its workforce as individuals retire. It is estimated that by 2030, there will be fewer individuals working than those who are retired. In addition, high divorce rates and an increasingly mobile society have resulted in a large increase in divided families. In modern America, children often live far from their parents. These factors leave fewer informal caregivers to help ease the burden of geriatric care.