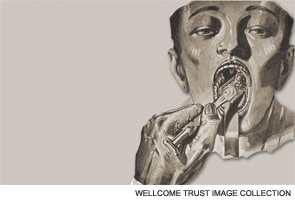 A medical illustration from 1923 showing a tonsillectomy. The guillotine is in the left hand, introduced with its fenestra under the lowermost limit of the left tonsil, at the junction of the faucial with the lingual tonsil tissues.
In its ongoing commitment to develop and practice evidence-based medicine, the American Academy of Otolaryngology-Head and Neck Surgery (AAO-HNS) recently issued a new clinical practice guideline on tonsillectomy in children.
Richard M. Rosenfeld, MD, MPH, professor and chair of otolaryngology at SUNY Downstate Medical Center in Brooklyn, N.Y. and one of the authors of the guidelines, said that they have been well received by the otolaryngology community so far. He acknowledged, however, as did several other experts interviewed for this article, that two recommendations in particular may create a stir because they support a change in clinical practice that, for some, may contradict years of clinical experience.
A multidisciplinary panel of experts researched and reviewed the literature on tonsillectomy from clinical practice guidelines published in the past 10 years, from systematic reviews published within the past 15 years, and from 705 randomized clinical trials. The panel members represented the fields of sleep medicine, advanced practice nursing, anesthesiology, infectious disease, family medicine, otolaryngology-head and neck surgery and pediatrics; it also included consumers.
As stated in the guidelines, their primary purpose is to provide evidence-based guidance on how to identify children who are the best candidates for tonsillectomy. Secondary aims include optimizing the perioperative management of children undergoing tonsillectomy, reducing inappropriate or unnecessary variations in care, and improving counseling and education of families who are considering tonsillectomy for their children.
The guidelines do not apply to partial tonsil removal techniques, such as tonsillotomy or intracapsular surgery, or to children with comorbid conditions that exclude them from most tonsillectomy research studies (e.g., children with diabetes, cardiopulmonary disease, craniofacial disorders, congenital anomalies of the head and neck region, sickle cell disease and other coagulopathies or immunodeficiency disorders).
First presented at the annual AAO-HNS meeting in Boston in September, the guidelines were published last month (Otolaryngol Head Neck Surg. 2011;144:S1-S30) and provide 10 statements that cover indications for surgery, perioperative care and postoperative care. Each statement generates either a recommendation or a strong recommendation (with one statement seen as optional) based on the level of evidence (See Table 1, p. 5). The guidelines are not meant to supersede professional judgement but to provide guidelines for management based on available data. A "strong recommendation" means that the benefits of the approach clearly exceed the harms as substantiated by high quality studies while a "recommendation" means the benefits exceed the harms but that the supporting evidence is not as strong.