In support of this statement, Dr. Bauman pointed to evidence used to generate the recommendation, specifically evidence from a Cochrane Review published in 2010 (Otolaryngol Head Neck Surg. (7): (CD005607). Only one of the five series reviewed analyzed the effect of post-op antibiotics for seven days in pediatric patients and it showed a significant reduction in the mean number of days with continuous subjective pain compared to placebo.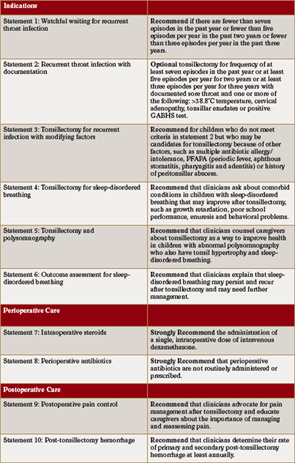 click for large version
Table 1. Evidence-Based Statements on Indications for and Pre- and Postoperative Management of Tonsillectomy
Pain Management
A second recommendation that is expected to generate some surprise and a shift in practice is the recommendation under statement 9 on pain control. Within that recommendation are the findings that use of postoperative oral nonsteroidal anti-inflammatory drugs (NSAIDs), such as ibuprofen, provide good pain control without increased potential for bleeding.
"In the past, people have been reluctant to give ibuprofen or NSAIDs after surgery because, despite their efficacy as pain medications, they affect platelets in the blood and can potentially prolong bleeding," Dr. Rosenfeld said. "I think it will now be pretty liberating and helpful to patients to know that it is okay to take ibuprofen based on randomized trials and systematic reviews that show that ibuprofen does not increase the risk of bleeding."
Pages: First | ← Previous | ... | 4 |5 | 6 | ... | Next → | Last | Single Page