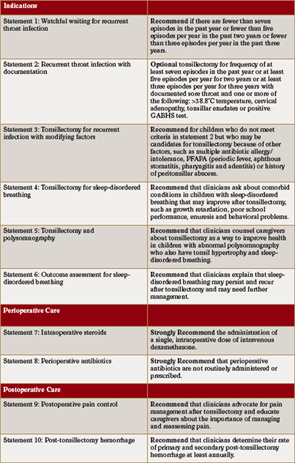 click for large version
Table 1.
Evidence-Based Statements on Indications for and Pre- and Postoperative Management of
Tonsillectomy
Pain Management
A second recommendation that is expected to generate some surprise and a shift in practice is the recommendation under statement 9 on pain control. Within that recommendation are the findings that use of postoperative oral nonsteroidal anti-inflammatory drugs (NSAIDs), such as ibuprofen, provide good pain control without increased potential for bleeding.
"In the past, people have been reluctant to give ibuprofen or NSAIDs after surgery because, despite their efficacy as pain medications, they affect platelets in the blood and can potentially prolong bleeding," Dr. Rosenfeld said. "I think it will now be pretty liberating and helpful to patients to know that it is okay to take ibuprofen based on randomized trials and systematic reviews that show that ibuprofen does not increase the risk of bleeding."
The study also found that acetaminophen with codeine does not provide superior pain control compared to acetaminophen alone.
For Dr. Bauman, both of these findings are good news as they provide a better option for pain control than using narcotics. "I am willing to change my practice and start using oral NSAIDs feeling more confident that it will not increase the frequency of postoperative bleeding," she said, adding that before she changes her practice she plans on reviewing the 13 randomized clinical trials used as evidence to support this recommendation since it will impart a significant change in her clinical practice. .
Kevin Pereira, MD, MS, professor of otorhinolaryngology-head and neck surgery and pediatrics and director of pediatric otolaryngology at the University of Maryland School of Medicine in Baltimore, Md., has given NSAIDS even before the new guidelines because of his own ongoing review of the evidence while serving on the AAO-HNS Subcommittee on Tonsils and Adenoids. He said he counsels patients to alternate between acetaminophen and ibuprofen to reduce the side effects of the cumulative dose of either drug.
Indications for Tonsillectomy
The guidelines also shed light on two major indications for tonsillectomy, recurrent throat infections and sleep-disordered breathing.
"The guideline emphasizes the need to be aware of the correct indications for tonsillectomy for recurrent infection," said Dr. Mitchell. "Mainly, tonsillectomy is indicated in children with severe and recurrent infection that may benefit from surgery. In children with mild throat infections, the morbidity of surgery may outweigh that of recurrent infection."