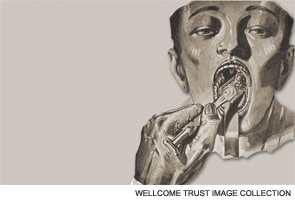 A medical illustration from 1923 showing a
tonsillectomy
. The guillotine is in the left hand, introduced with its fenestra under the lowermost limit of the left tonsil, at the junction of the faucial with the lingual tonsil tissues.
In its ongoing commitment to develop and practice evidence-based medicine, the American Academy of Otolaryngology-Head and Neck Surgery (AAO-HNS) recently issued a new clinical practice guideline on tonsillectomy in children.
Richard M. Rosenfeld, MD, MPH, professor and chair of otolaryngology at SUNY Downstate Medical Center in Brooklyn, N.Y. and one of the authors of the guidelines, said that they have been well received by the otolaryngology community so far. He acknowledged, however, as did several other experts interviewed for this article, that two recommendations in particular may create a stir because they support a change in clinical practice that, for some, may contradict years of clinical experience.
A multidisciplinary panel of experts researched and reviewed the literature on tonsillectomy from clinical practice guidelines published in the past 10 years, from systematic reviews published within the past 15 years, and from 705 randomized clinical trials. The panel members represented the fields of sleep medicine, advanced practice nursing, anesthesiology, infectious disease, family medicine, otolaryngology-head and neck surgery and pediatrics; it also included consumers.
As stated in the guidelines, their primary purpose is to provide evidence-based guidance on how to identify children who are the best candidates for tonsillectomy. Secondary aims include optimizing the perioperative management of children undergoing tonsillectomy, reducing inappropriate or unnecessary variations in care, and improving counseling and education of families who are considering tonsillectomy for their children.
The guidelines do not apply to partial tonsil removal techniques, such as tonsillotomy or intracapsular surgery, or to children with comorbid conditions that exclude them from most tonsillectomy research studies (e.g., children with diabetes, cardiopulmonary disease, craniofacial disorders, congenital anomalies of the head and neck region, sickle cell disease and other coagulopathies or immunodeficiency disorders).
First presented at the annual AAO-HNS meeting in Boston in September, the guidelines were published last month (Otolaryngol Head Neck Surg. 2011;144:S1-S30) and provide 10 statements that cover indications for surgery, perioperative care and postoperative care. Each statement generates either a recommendation or a strong recommendation (with one statement seen as optional) based on the level of evidence (See Table 1, p. 5). The guidelines are not meant to supersede professional judgement but to provide guidelines for management based on available data. A "strong recommendation" means that the benefits of the approach clearly exceed the harms as substantiated by high quality studies while a "recommendation" means the benefits exceed the harms but that the supporting evidence is not as strong.
Changes in Antibiotic Use
"The most surprising finding is that the current literature does not support the routine use of antibiotics after tonsillectomy," said Ron B. Mitchell, MD, professor and chief of otolaryngology-head and neck surgery within the division of pediatric otolaryngology at Cardinal Glennon Children's Hospital and Saint Louis University School of Medicine, St. Louis, Mo., another author of the guidelines.
Under statement 8, the guidelines strongly recommend against the routine use of perioperative antibiotics, based on the fact that the aggregate data show no support or benefit in the perioperative period (defined as the 24 hours prior to and after surgery). This statement, according to Dr. Rosenfeld, will clash with the clinical practice of up to 80 percent of otolaryngologists, who currently give antibiotics on a routine basis for seven to 10 days after tonsillectomy, with the perceived benefit of speeding recovery.
He emphasized, however, that aggregate data from randomized clinical trials over the last decade or two do not show this benefit. "Looking at all the research, it looks like giving antibiotics versus placebo after tonsillectomy really doesn't change, in a meaningful way, how a child recovers," he said.
Because of this finding, Drs. Rosenfeld and Mitchell have already changed their practice and no longer routinely use antibiotics in this setting.
For Nancy Bauman, MD, a pediatric otolaryngologist at Children's National Medical Center in Washington, D.C., such a switch is not yet likely, however. Although she applauds the authors for their diligent review of the literature and developing guidelines that represent an outstanding review of the data, she nonetheless is hesitant to change her clinical practice and accept the particular recommendation regarding antibiotic use until she can review the topic further.
"I know that personal and anecdotal experience should not guide my judgement in the face of evidence based guidelines," she said, "However, I am not certain that enough data is available to judge the effect of antibiotics for pain control in the pediatric patient population."
In support of this statement, Dr. Bauman pointed to evidence used to generate the recommendation, specifically evidence from a Cochrane Review published in 2010 (Otolaryngol Head Neck Surg. (7): (CD005607). Only one of the five series reviewed analyzed the effect of post-op antibiotics for seven days in pediatric patients and it showed a significant reduction in the mean number of days with continuous subjective pain compared to placebo.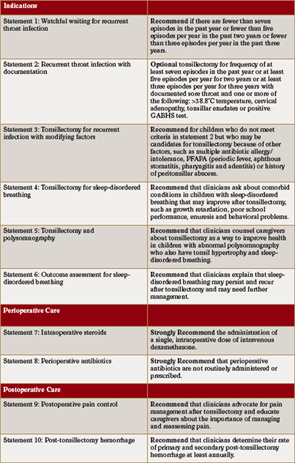 click for large version
Table 1. Evidence-Based Statements on Indications for and Pre- and Postoperative Management of Tonsillectomy
Pain Management
A second recommendation that is expected to generate some surprise and a shift in practice is the recommendation under statement 9 on pain control. Within that recommendation are the findings that use of postoperative oral nonsteroidal anti-inflammatory drugs (NSAIDs), such as ibuprofen, provide good pain control without increased potential for bleeding.
"In the past, people have been reluctant to give ibuprofen or NSAIDs after surgery because, despite their efficacy as pain medications, they affect platelets in the blood and can potentially prolong bleeding," Dr. Rosenfeld said. "I think it will now be pretty liberating and helpful to patients to know that it is okay to take ibuprofen based on randomized trials and systematic reviews that show that ibuprofen does not increase the risk of bleeding."
The study also found that acetaminophen with codeine does not provide superior pain control compared to acetaminophen alone.
For Dr. Bauman, both of these findings are good news as they provide a better option for pain control than using narcotics. "I am willing to change my practice and start using oral NSAIDs feeling more confident that it will not increase the frequency of postoperative bleeding," she said, adding that before she changes her practice she plans on reviewing the 13 randomized clinical trials used as evidence to support this recommendation since it will impart a significant change in her clinical practice. .
Kevin Pereira, MD, MS, professor of otorhinolaryngology-head and neck surgery and pediatrics and director of pediatric otolaryngology at the University of Maryland School of Medicine in Baltimore, Md., has given NSAIDS even before the new guidelines because of his own ongoing review of the evidence while serving on the AAO-HNS Subcommittee on Tonsils and Adenoids. He said he counsels patients to alternate between acetaminophen and ibuprofen to reduce the side effects of the cumulative dose of either drug.
Indications for Tonsillectomy
The guidelines also shed light on two major indications for tonsillectomy, recurrent throat infections and sleep-disordered breathing.
"The guideline emphasizes the need to be aware of the correct indications for tonsillectomy for recurrent infection," said Dr. Mitchell. "Mainly, tonsillectomy is indicated in children with severe and recurrent infection that may benefit from surgery. In children with mild throat infections, the morbidity of surgery may outweigh that of recurrent infection."
According to Dr. Mitchell, the number of tonsillectomies performed for recurrent throat infections has been decreasing, while they've been increasing for children with sleep-disordered breathing.
Saying that the relationship between sleep and tonsillar hypertrophy is underappreciated in the community, he urged otolaryngologists to be advocates for children with sleep problems. The guidelines, he said, emphasize the effectiveness of tonsillectomies in these children, including improving sleep, daytime functioning and school performance.
Dr. Rosenfeld also emphasized that although otolaryngologists are aware that sleep-disordered breathing is a main indication for tonsillectomy in children, there is a need to educate primary care doctors, as well as parents and caregivers, of the benefit of tonsillectomies in children with this problem.
"I encourage my colleagues to embrace these guidelines."
—Laure J. Orvidas, MD
Implementation
Generating guidelines is difficult enough, but implementing them can be even more challenging. Although guidelines are meant to guide and not replace clinical judgment, changing a long-held clinical practice based on evolving evidence is an expected outcome that underlies the drive to generate evidence-based medicine, and clinicians are therefore increasingly faced with the need to look at their own practices in the context of the evidence.
"Although some of the guidelines may represent a paradigm shift, such as discontinuing the use of antibiotics, we need to embrace the work that was done to provide us with the appropriate justification for what we do," said Laura J. Orvidas, MD, associate professor of otorhinolaryngology at the Mayo Clinic in Rochester, Minn., who has experience developing a practice guideline and emphasized that evidence-based medicine is a current and future reality.
"The more we help ourselves learn what is best and practice best medicine, the less the government and insurance companies will be able to dictate how we practice," she said. "I would encourage my colleagues to embrace these guidelines and those developed in the future."
Acknowledging the hesitancy many clinicians are expected to feel about implementing some of the recommendations, specifically the recommendation advising against routinely using antibiotics, Dr. Rosenfeld nonetheless hopes that otolaryngologists read the guidelines.
"If you do tonsillectomy, read this document," he said. "Even if you don't like guidelines or don't agree with the concept of guidelines, I have no doubt that a reader will find some useful information in the guidelines to provide the best quality of care for the kids who are getting their tonsils out."
Dr. Bauman suggests that all training programs review the guidelines in a journal club to assess their treatments compared to the guidelines, as she plans to do at her institution.
To track implementation, Dr. Pereira suggests the AAO-HNS send out a survey to members to poll how many agree or disagree with the guidelines and follow up with another survey in two years to evaluate the compliance rate.
Dr. Mitchell emphasized the need for otolaryngologists to participate in research so that future guidelines can be developed that address some gaps in knowledge, such as a multidimensional approach to surgical outcomes in children who have recurrent infections, as well as the correct use of pain medications after tonsillectomy, including appropriate dosing, class of medication and timing of administration after surgery.