Dr. Citardi also cautioned that incomplete dissection may not necessarily be associated with surgical failure in all patients. "We only see the patients who remain symptomatic [after surgery]," he said, "so it is possible that there are other persons who have similar surgery who are not symptomatic and we don't see them."
Also critical for improved outcomes, according to Dr. Close, is preserving the delicate respiratory epithelium that lines the cells. "That is where most surgeons do not do a good job," he said. "If the surgeon strips the mucosal out inadvertently, two things will happen that will lead to absolute failure—the opening will scar over or, even worse, new bone formation will close the area off."
According to Peter-John Wormald, MD, chair of the ENT Department at the University of Adelaide in Woodville, Australia, several improvements in recent years are helping to reduce these technical problems, including improved instrumentation and a better understanding of sinus anatomy through three-dimensional imaging that permits a more complete and safer dissection.
"The combination of the surgeon understanding the anatomy better with improved instrumentation and in some cases utilization of computer-aided navigation has allowed even the most complex and recalcitrant sinus patients to have successful surgery," he said, emphasizing that repeated pre-surgery planning will help surgeons gain confidence and the expertise to remove all obstructing cells from the sinus, subsequently improving outcomes.
For Dr. Palmer, improvement in visualization based on techniques to decrease bleeding into the surgical field is critical to improved outcomes. These techniques include better local injections, use of the laryngeal mask airway to decrease irritation to the larynx, and use of total intravenous anesthesia, which decreases the dilatory effects of inhaled anesthesia.
"If you can decrease your bleeding and improve visualization, that will allow you to do more complete surgery," he said, adding that this means a reduced likelihood for the need for revision surgery.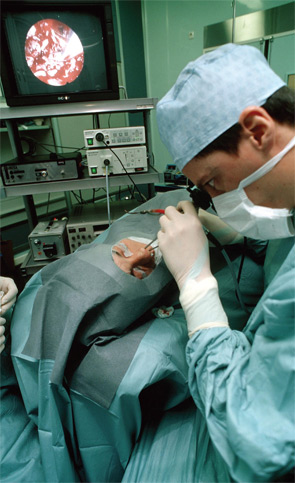 A surgeon using a nasal endoscope to help remove sinus mucosa from the patient's sinuses.
Nature of the Disease
Even with the best surgical skill, however, sinus surgery can be considered a failure and the need for revision requested. Chronic rhinosinusitis, like all chronic conditions, requires strong patient participation to improve outcomes, with or without surgery.
Issues related to the patient include compliance with medical therapies as well as cessation of behaviors that complicate sinus problems, such as smoking. Underlying these issues is the primary need for the patient to recognize the nature of chronic rhinosinusitis, the difficulty of treating it, and the expectations of treatment. To this end, patient education is key.